10 Things You Need To Know About Birthday Boy Girish Ernak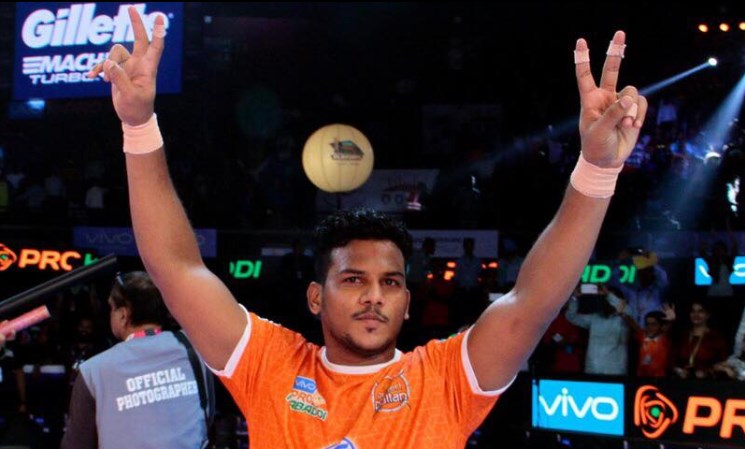 Puneri Paltan skipper and left corner Girish Ernak is celebrating his 28th birthday today. Agressive on the mat, Girish Ernak has established himself as solid left corner defender. He is one of the best defenders of Pro Kabaddi League history.
There are many things you should know about him –
1) Girish Ernak was born on 22n December 1990 in Kalyan, Maharashtra. He hails from Ahemadnagar. But due to his father was doing job at the Railways his family shifted to Kalyan.
2) He started playing Kabaddi in his school days when his Physical Education teacher told him to play Inter School Kabaddi Tournament. After completing 10th std he went to Om Kabaddi Club of Kalyan West. There he got guidance of Maharashtrian Kabaddi players such as Prashant Chavhan, Pankaj Chavhan and Santosh Padwal.
3) Girish, then did a job in Air India, Bank of Mysore. While doing the job he participated in various Kabaddi tournaments. Because of his defencive skills, Patna Pirates brought him into their team in 2014 PKL.
4) He make his mark steadily at Pro Kabaddi League. In season 1 and 2 Girish led Patna Pirate's raid points tally. He moved to Bengal Warriors in PKL season 3 and 4. Girish represented Puneri Paltan in PKL season 5. He was appointed as a captain of Puneri Paltan in PKL 6.
5) He gave his best performance in Pro Kabaddi League season 5 where he claimed 64 points from 21 matches played for his team Puneri Paltan.
6) Girish is one of the best defenders of Pro Kabaddi League. He has 228 tackle points from 89 matches. Holding the average of 2.56 he has scored 11 Super Tackles and 15 High 5's to his name.
7) He carried his form in 65th Senior Nationals (2017-2018) and came third in the 3rd Federation Cup (2018) for Maharashtra.
8) Girish Ernak represented Indian Kabaddi Team at Kabaddi Masters Tournament (2018) and Asian Games 2018.
9) Currently Girish is serving at Bharat Petroleum and he also represents them at the Industrial National Championships.
10) While defence, Dash is the signature move of Girish Ernak.