10 Things You Need To Know About Birthday Boy Pardeep Narwal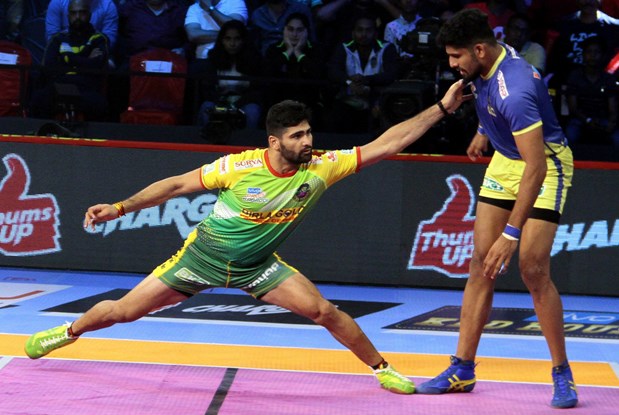 One of the most fierce raiders of the Pro Kabaddi League history Pardeep Narwal is celebrating his 22nd birthday today. Famously known for his 'Dubki' (a dive beneath the chain tackle) Patna Pirates captain Pardeep Narwal has performed outstandingly well in last four seasons.
There are many things you should know about him –
1) Pardeep Narwal was born on 16th February 1997 in Rindhana, Sonipat, Haryana.
2) As Sonipat is a Kabaddi hub of India Pardeep started playing Kabaddi in his childhood. Soon he joined a Kabaddi academy and started practicing there under his coach Naresh Kumar.
3) In PKL season 2 he played for Bengaluru Bulls. But he did not get a chance there in playing seven.
4) Pardeep Narwal was bought by Patna Pirates in PKL 3 which as proved to be a turning point of his career. He grabbed 121 points (116 Raid and 5 Tackle) from 16 matches. He had a major contribution in Patna's title win. For his excellent performance, Pardeep was awarded with 'Emerging Player of the Season'.
5) In season 4 Pardeep was successful in getting 133 points (131 Raid and 2 Tackle) from 16 matches. With his excellent performance, Patna Pirates were successful in retaining their title. Here he won the 'Most Valuable Award'.
6) As a captain of Patna Pirates, Pardeep picked up 369 points from 26 matches and was first in raider's chart. He won the 'Most Valuable Player' award for the second consecutive time. With Pardeep's record-breaking performance Patna Pirates made a hat-trick of PKL titles.
7) Most raid points in one match (34 Raid Points), Most Raid Points in all seasons of PKL (858 Raid Points), Most raid points in one season (369 Raid Points in PKL 5), Most super 10's in PKL history (44), Most Super Raids in PKL history (38) are a bunch of records held by this raid master.
8) Pardeep Narwal is famously known as 'Dubki King' as it has become his signature move. He has the highest raid success rate when he uses dubki.
9) He represents his home state Haryana in the National Kabaddi Tournaments.
10) Pardeep is a 2016 Kabaddi World Cup Gold Medalist. He was also part of the Indian Kabaddi Team that won the 2017 Asian Kabaddi Championship, Dubai Masters Kabaddi Tournament and Bronze at Asian Games 2018.