10 things you need to know about birthday boy Rishank Devadiga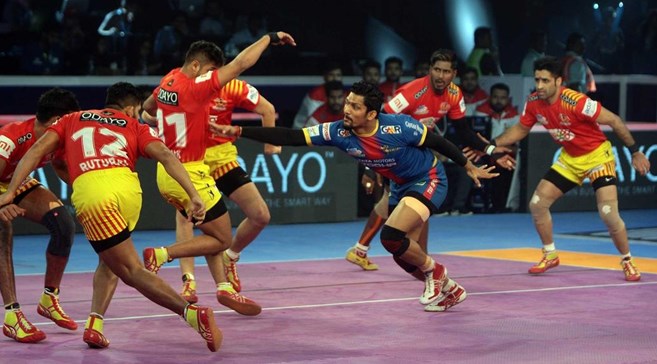 UP Yoddha skipper Rishank Devadiga is celebrating his 28th birthday today. Fighting all the odds so he could pursue his dream of playing Kabaddi Rishank is one of the best raiders of Pro Kabaddi League.
There are many things you should know about him –
1) Rishank Devadiga was born on 3rd February 1994 in Santacruz, Mumbai, Maharashtra. He hails from Gangolli village, Karnataka. But he spent his childhood in Santacruz. Rishank lives there with his mother and sister. He lost his father at a very young age.
2) He began playing Kabaddi when he was just 6-7 years old. His mother was very concerned about his Kabaddi as Kabaddi is a contact game and there are chances of injury. After pursuing his graduation, Rishank due to not well financial position did a job as a waiter at Leela Hotel. While doing the job he participated in various Kabaddi tournaments.
3) Very soon he got selected in Mumbai District Kabaddi team and then in Dena Bank team. He left his job when he decided to follow his dream of playing Kabaddi. He started playing for BPCL team. Because of his raiding skills U Mumba brought him into their team in 2014 PKL.
4) He make his mark steadily at Pro Kabaddi League. He was with U Mumba till season 4. He represented UP Yoddha in PKL season 5. Rishak was one of the costliest players of PKL history with a bid of 1.11 Crore. He was appointed as a captain of UP Yoddha in PKL 6.
5) He gave his best performance in Pro Kabaddi League season 3 where he claimed 106 raid points from 16 matches played for his team U Mumba. He was awarded with 'Best Raider Of The Season'.
6) Rishank is one of the best raiders of Pro Kabaddi League. He has 594 raid points from 103  matches. Holding the average of 5.33 he has scored 10 Super 10's and 23 Super Raids.
7) Under Rishank's captaincy his home state Maharashtra won the at 65th Senior Nationals (2017-2018) after a drought of 11 years and came third in the 3rd Federation Cup (2018).
8) While raiding, Running Hand Touch is the signature move of Rishank Devadiga.
9) Rishank has won the Gold medal with Indian Kabaddi Team at Kabaddi Masters Tournament (2018) and Bronze medal at Asian Games 2018.
10) Currently Rishank is serving at Bharat Petroleum and he also represents them at the Industrial National Championships.