10 Things You Need To Know About Birthday Boy Rohit Kumar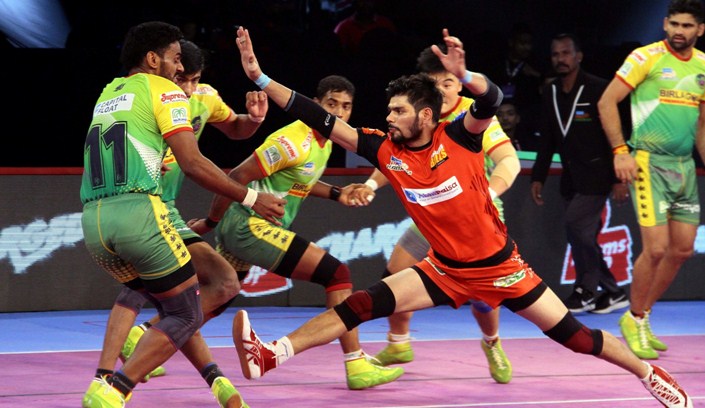 Rohit Kumar, who is one of the best raiders of the Indian Kabaddi Team is celebrating his 28th birthday today. It won't be unfair to call him the Centurion of Pro Kabaddi League. He has scored more than 100 raid points in each season since his debut in season 3. He always stands for the team even without getting any support, one of the most consistent players of PKL, Rohit Kumar.
There are many things you should know about him –
1) Rohit Kumar was born on 19th January 1990 in Nizampur, Haryana.
2) Seeing the legendary senior players like Manjeet Chhillar and Rakesh Kumar training in Nizampur Rohit Kumar also started practicing Kabaddi.
3) In 2009, he got selected in Indian Navy through Sports Quota. Currently, he is employed with Navy.
4) Rohit Kumar made his Pro Kabaddi League debut in season 3 with Patna Pirates where he grabbed 109 points (102 raid and 7 tackle) from 12 matches. He had a major contribution in Patna's title win. For his excellent performance, Rohit was awarded with 'Most Valuable Player' of PKL 3.
5) In season 4 Rohit switched to Bengaluru Bulls where he was successful in getting 100 points (93 raid and 7 tackle) from 14 matches. He was the second costliest player with a bid of Rs. 81 Lakh. Unlike season 3 Rohit played like a lone warrior for the Bulls.
6) As a captain of Bengaluru Bulls Rohit picked up 231 points (219 raid and 12 tackle) from 22 matches and was second in raider's chart. He was the first player to score 30 points in a PKL match when he picked up 32 points against U.P. Yoddha in Season 5.
7) In recently held PKL 6 Rohit Kumar led Bengaluru Bull lifted the trophy. Talking about the individual performance he has 171 points (162 raid and 9 tackle) in 16 matches.
8) Having running hand touch as a mostly used move Rohit represents Services Kabaddi team in the Senior National Championships.
9) Rohit is a 2016 South Asian Games Gold Medalist. He was a part of the Indian Kabaddi Team that won the 2017 Asian Kabaddi Championship, Dubai Masters Kabaddi Tournament and Bronze medal at Asian Games 2018.
10) Rohit Kumar is a huge fan of Bollywood star Akshay Kumar. He has a tattoo of Akshay Kumar on his left hand.