A Circle Kabaddi Tournament commenced at Kurukshetra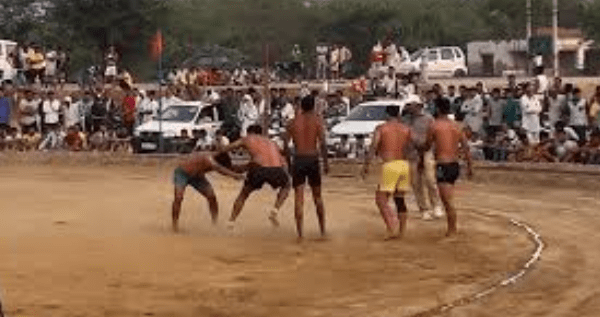 The Circle Style Kabaddi is a form of Kabaddi which is also called as Punjabi Kabaddi. It was originated in the state of Punjab.
It is played on a circular pitch of a diameter of 22 meters & an inner circle with a line through the middle of the pitch.
There are two teams of 8 players; one on one raid; & no player leaves the field even if he is touched by opposition.
Azadi Ka Amrit Mahotsav is an initiative of Government of India to commemorate 75 glorious years of progressive India.
With that Circle Kabaddi competition was held in MP Trophy 2022 at Dronacharya Stadium, Kurukshetra, Haryana
Team from Guhala village of Rajasthan team won the title here. Guhala team defeated Kaithal village team Haryana in final match.
Pundari & Kalayat were the other two semi-finalists teams. Udham Singh, Guhala team became player of the tournament.
Education Minister Kanwalpal Gurjar & MP Nayab Saini were present here. They awarded the winning teams.
Rajkumar Saini, Dharmaveer Mirjapur, Sshil Rana, Rakesh Purohit, Vineet Kawatara graced the occasion.