A look back at past winners of Pro Kabaddi League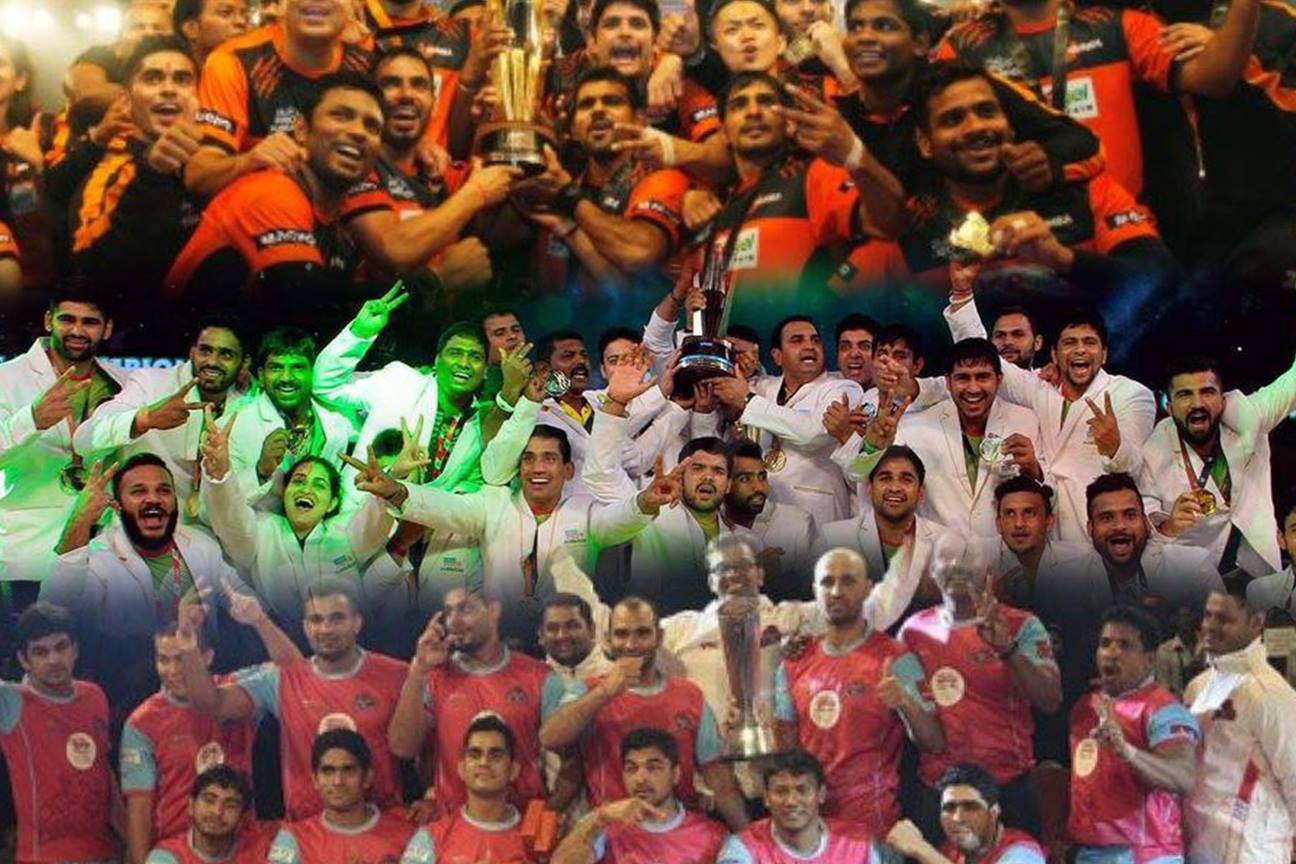 Pro Kabaddi League is the second most popular league of India, after Indian Premier League (IPL). Since its inception, the league has received a tremendous response by the audience. Pro Kabaddi League was started in 2014. An indigenous game with new format and rules was picked up in a positive way by the audience. PKL is not less than a festival for Kabaddi fans. 8 team were participating in the first 4 seasons of PKL. But there were 12 teams who took part in season 5 of PKL.
PKL is the biggest league in India if you look at the number of teams that participate, duration of the league, venues at which matches are played, and the number of matches played by these teams. 40 minutes action-packed Kabaddi drama, various records, the sizzling atmosphere at the venues have been witnessed by the fans in past 5 seasons and current 6 seasons too.
Tonight Bengaluru Bulls and Gujarat Fortunegiants will fight with each other for the trophy. Neither Bengaluru Bulls nor Gujarat Fortunegiants has ever lifted the trophy. In addition to this all defending champions Jaipur Pink Panthers, U Mumba and Patna Pirates have been knocked out of the league. So it is clear that PKL will get a new champion.
Like this ongoing season past seasons were also an engaging and exciting one. Let's take a look at which teams are crowned as a champion in past seasons.
1) Jaipur Pink Panthers, Season 1 (July 2014)
In the opening season, Navneet Gautam led and table toppers Jaipur Pink Panthers lifted the trophy. They thrashed U Mumba 35-24. Jaipur made it to the finals by beating Patna 38-18 in Semi Final 1 whereas U Mumba won over the Bengaluru Bulls 27-23 in Semi Final 2. The third spot belonged to Patna Pirates. They won third place match against Bengaluru Bulls 29-22.
2) U Mumba, Season 2 (July 2015)
Anup Kumar captained U Mumba was crowned as a champion as they won the final match against Bengaluru Bulls 36-30. In the Semi Final 1, Bengaluru Bulls managed to clinch a victory against Telugu Titans 39-38. U Mumba who topped the points table defeated Patna Pirates 35-18 in the second Semi-Final. The third-place match between Telugu Titans and Patna Pirates was won by Telugu Titans 34-26.
3) Patna Pirates, Season 3 (January 2016)
Manpreet Singh led Patna Pirates crushed table toppers and defending champions U Mumba 31-28. Patna made it to the finals by beating Pune 40-21 in Semi Final 1 whereas U Mumba won over the Bengal Warriors 41-29 in Semi Final 2. The third spot belonged to Puneri Paltan. They won third place match against Bengal Warriors 31-27.
4) Patna Pirates, Season 4 (June 2016)
Defending champions Patna Pirates were successful in retaining their title under the leadership of Dharmaraj Cheralathan. Table toppers Patna managed to win over Jaipur Pink Panthers 37-29. Patna once again beat Puneri Paltan 37-33 in Semi Final 1 to go into the finals. Jaipur Pink Panthers edged out Telugu Titans 34-24 in Semi Final 2. The third position belonged to Puneri Paltan as they beat Telugu Titans 40-35.
5) Patna Pirates, Season 5 (July 2017)
For the second time, Patna Pirates retained their title and became the most successful team in league history. They clinched the victory over Gujarat Fortunegiants 55-38. Zone A Table Toppers Gujarat won Qualifier 1 against Bengal Warriors 42-17 and went into the finals. But Patna Pirate's path for the final was much longer than Gujarat. They firstly beat Haryana Steelers 69-30 in Eliminator 2. Next, they defeated Puneri Paltan 42-32 in Eliminator 3. Qualifier 2 victory against Bengal Warriors as 47-44 ensured Patna's spot in finals.