A record-breaking audience galore on the last day of 66th Kabaddi Nationals
Amateur Kabaddi Federation of India (AKFI) recognized and Maharashtra State Kabaddi Association organized 66th Men's Senior National Kabaddi Championship held from 28th January to 31st January 2019.
434 players of 31 teams were featured in the tournament. Yesterday Indian Railway team defeated Services team clinched the title of 66th Senior National Kabaddi Championship. Maharashtra and Services teams received Bronze medals jointly.
D. G. Tatkare Krida Nagri, Mhada Society Ground, Roha tehsil, Raigad district, Maharashtra was the venue of 66th Kabaddi nationals. A huge response was received by the tournament on its first two days.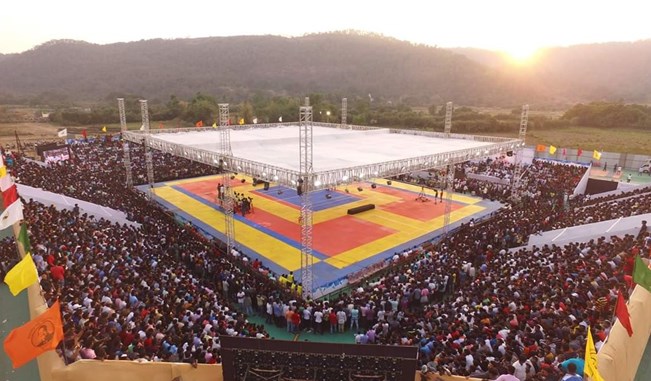 Yesterday (31st January) The semifinal matches were scheduled at 6 pm. But people from Alibaug, Raigad, Panvel started gathering at the venue by 2 pm. The stadium was overcrowded at 4 pm.
Some Fans even stand at the empty space between the mat and the stand. Security forces had to make huge efforts to control the 35,000 crowds. Hon. Sunil Tatkare, Aniket Tatkare made an appeal to the public to stay calm.
Some Kabaddi fans enjoyed the matches sitting outside the stadium where the arrangement of two big screens was made for fans to watch the live action. This tournament broke all the previous record of a number of crowds.