A strong defenseive performance by UP Yoddha demolish Bengaluru Bulls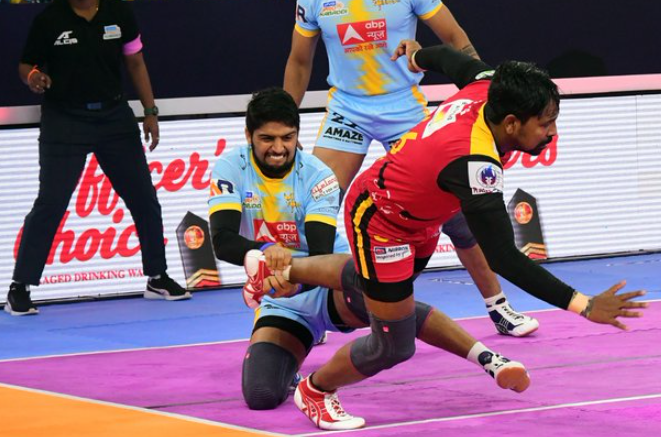 Vivo Pro Kabaddi League season 8 is undergoing in Bengaluru. Tonight in the second match, UP Yoddha defeated Bengaluru Bulls by a huge margin of 15 points keeping the score 42-27.
Both the teams played on their defensive fronts in the first half. Raiders were failing in scoring the points. Half time score was 19-14 in favour of UP Yoddha due to their defense.
Two finest raiders of PKL history Bengaluru Bulls skipper Pawan Kumar Sehrawat and most expensive player of PKL history Pardeep Narwal were not able to score points.
In the second half UP Yoddha Raider Shrikant Jadhav took the charge of their raiding department. Their defense was on full swing. Bengaluru young raider Bharat raided well.
UP Yoddha defense set the new record of scoring 'Most Tackle Points In A Match By Any PKL Team' till now. Yoddha defense took massive 22 tackle points against the Bulls team.
Shrikant Jadhav, UP Yoddha raider scored a super 10 with 12 raid and 3 tackle points. Surender Gill took 3 raid and 2 tackle points. Mohammad Taghi picked up a high 5.
Gurdeep and Sumit notched up 4 tackle points each. Skipper Nitesh Kumar took 3 tackle points. Shubham Kumar and Ashu Singh took 2 tackle points each.
From Bulls team, Bharat earned 11 raid points. Skipper Pawan Kumar Sehrawat scored 5 raid points. Defenders Aman and Mohit Sehrawat got 2 tackle points each.
Best Raider: Shrikant Jadhav – UP Yoddha – 12 Raid Points
Best Defender: Mohammad Taghi – UP Yoddha – 5 Tackle Points