Ajay Thakur's bizarre blooper creates stir in Pro Kabaddi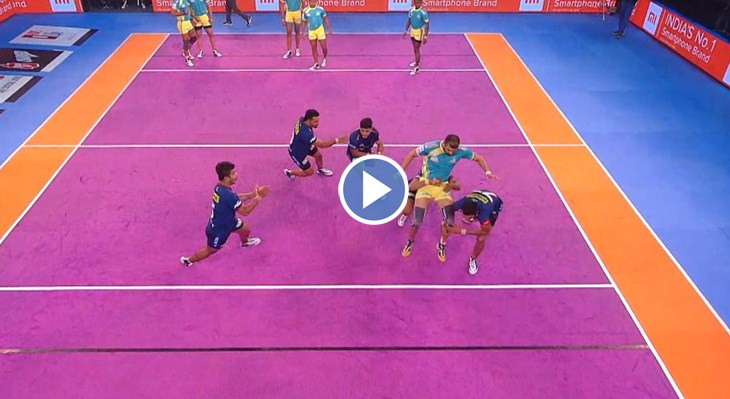 Yesterday (25th December) at Pro Kabaddi League season 6 inter zone wildcard match between Tamil Thalaivas and Haryana Steelers was held. The match was drawn by 40-40. For Tamil Thalaivas skipper Ajay Thakur did a Super 10. Anand and Amit Hooda were brilliant. On the other side Haryana Steelers captain Monu Goyat and Vikash Khandola had a Super 10's to their names. Parveen was good for them in defence.
Tamil Thalaivas were in the lead over Haryana Steelers 16-14 after the end of the first half. When the second half got started Tamil Thalaivas inflicted their first all-out on Haryana Steelers. Still the Thalivas were leading 19-15. At the 28th minute Haryana Steelers returned the all-out on Tamil Thalaivas with the scores reading 27-23 in their favor. Tamil Thalaivas inflict their second All-Out of the game at 31st minute of the game.
When there were 50 seconds remaining for the match to end score was 40-38 in favor of Tamil Thalaivas. Their skipper Ajay Thakur went for the raid. Initially he went for an empty raid and after he crossed the baulk line he kept on staring at the raid clock. Taking the advantage of the situation Haryana Steeler's right corner defender Sunil carried him back picking up a crucial point for the team. Then after Vikash Khandola scored one touch point. And this is how the match was drawn with the score of 40-40. Tamil Thalaivas who were at the winning position lost the match due to the mistake of their captain.
Today Ajay Thakur shared this video on his official Instagram account with accepting his mistake. He said 'My second biggest mistake of my life. Got to learn from this mistake'. Commenting on this post Former Indian Kabaddi Team Captain said 'What you just did?' Replying on Anup's comment Ajay replied 'I was lost in the moment and I did not know what happened', and apologized him.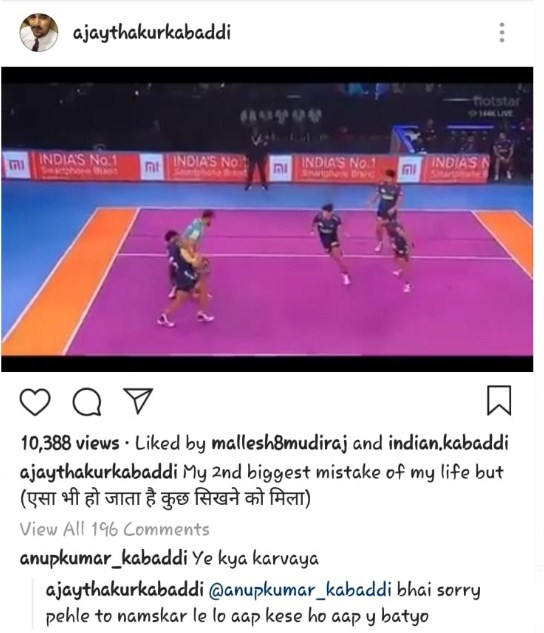 This match was the last match for both of these teams in PKL season 6.