All-rounders who can put a complete performance in PKL 8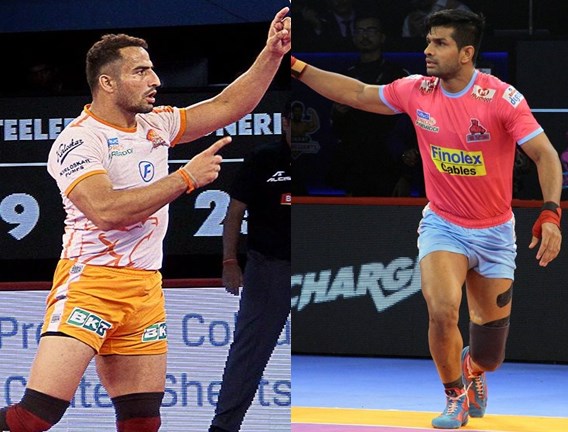 – Ambrish Upadhyay
All-rounders have always been a valuable asset to their teams in Pro Kabaddi League. PKL has produced some quality all-rounders in the past years like Manjeet Chhillar, Sandeep Narwal, Deepak Niwas Hooda, Meraj Sheikh, Farhad Rahimi, Rajesh Narwal, Rohit Gulia, Mohammad Nabibakhsh and many more.
All-rounders provides a team dual advantage both in offence & defense, which often contributes in the winning cause of the team.
Here, we will be talking about some quality all-rounders who can perform up to their level best in Pro Kabaddi Season 8.
1- Deepak Niwas Hooda
The skipper of Jaipur Pink Panthers, Deepak has been the top scorer for his team from PKL 6. Deepak scored 146 raid points & 12 tackle points in 20 PKL matches.
Well, this was not up to the level which Deepak has set for himself in past years.
Deepak was roped back in to the squad at a price of 55 lakhs in the auction, Deepak is looking in great shape before season 8 & can make his comeback with a bang in PKL 8. 
2- Sandeep Narwal
Jumping Jack Sandeep Narwal was signed by Dabang Delhi KC at a price of 60 lakhs in the auction. Known for his aggressive game style, Sandeep has been a consistent performer for his teams in past seasons. Sandeep has scored 249 raid points & 310 tackle points so far in 125 PKL matches which makes him one of the most valued all-rounder of the league. Sandeep will be possibly playing as a right corner this season & can make into top scoring defenders list. Known for his quickfire pursuit, Sandeep also scores some valuable raid points, which will be impactful for Delhi in season 8.
3- Rohit Gulia
Rohit has been signed by Haryana Steelers at a huge price of 83 lakhs, which made him the most expensive all-rounder of PKL 8. Despite having a impactful season 7 (132 raid points & 10 tackle points in 22 PKL matches) for Gujarat, Rohit was released by the franchise. Rohit had the best campaign of his PKL career.
Rohit will be having new responsibilities this season and could potentially be the top scorer for Haryana.
4- Mohammad Nabibakhsh
The find of the season 7 for Bengal Warriors, Mohammad Nabibakhsh was retained by Bengal after having an impactful debut season, Nabibakhsh scored 122 total points in 23 matches and played crucial role in the maiden title winning campaign of Bengal Warriors. 
5- Brijendra Chaudhari
The local boy from Rajasthan was signed by Haryana Steelers at a huge price of 55 lakhs. Brijendra got the reward of his exceptional performances in the 67th & 68th senior nationals. Brijendra has been part of Jaipur Pink Panthers in season 7 but didn't got chances to play. Brijendra can possibly continue his form of 68th senior nationals for Haryana in PKL 8.
6- Md. Reza Shadloui
The most expensive overseas all-rounder of PKL 8 auction , Reza was signed by Patna Pirates at a price of 31 lakhs. The Iranian national all-rounder has been in talks since his bid in the auction. Reza plays as a left corner defender & also scores crucial raid points for the team. He can possibly be the find of the PKL SEASON 8.