Asian Games 2018 : Iran's Indian connection is behind their victory over Kabaddi supremos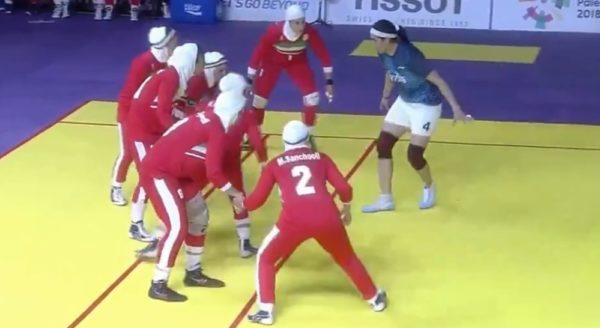 Yesterday Jakarta witnessed a historic moment in the Asian Games. Indian women's team lost the Gold to Iran in the finals of Asian Games 2018. India's supremacy in the World of Kabaddi came to an end.
Indian Women's team was the favourite to clinch the Gold and complete a hat-trick of Gold at the Asian Games. But the unthinkable and unimaginable was witnessed by the Kabaddi fans when the final whistle blew and the scorecard reflected India had missed the Gold. The final scoreline read 27-24 with Iran clinching the Gold.
The magic that Iran created on the mat was lessons imparted by their coach, Mrs Shailaja Jain, an Indian who has been the talk of the town since Iran's scintillating performance against India.
"If they had asked nicely, I might have even helped the Indian men's team with insights into the Iranian opponents they lost to yesterday. But their attitude makes me feel like I am a criminal for coaching outside," says the 61-year-old tactician in an interview with 'The Indian Express'.
The right corner of the Indian defense was the target the she had set in her mind and raiders that could make a difference were sent in. "Within 2-3 minutes, India's morale was down after our raiders attacked that right corner. Their defense crumbled, and we took advantage," the plan worked as expected for the Iran Coach.
Two years ago in 2016, she was asked by Iranian Kabaddi Federation to rope in for coaching their women's team. Firstly she was worried about going to Iran. The Iranians sped up her visa formalities within a week of month trail in 2016  and she had her on the first flight out to Tehran. She was worried about the dressing laws in Iran, treatment given to women there and whether she'd be able to get vegetarian food as she is pure veg-eating Jain.
The journey to Iran was difficult mentally also because "There are certain rules of that country, and I took it positively. Iran never compelled her to wear the head-scarf would wear an odhini like we do on a salwar kurta. I could not be stuck because of these things. Plus, if I hadn't taken this up, people wouldn't be so interested in my life story. It's because I won the Asian Games with Iran beating favorites India, and I am a successful coach". Iran had earlier offered her the role of coach in 2008 but she did not take it up as the pay was quite less.
Born and brought up in Nagpur she watched her mother play Kabaddi and was intrigued by the sport. She also played other sports like Kabaddi, Langdi, Kho-Kho and running during her school days.
Despite of her love for the game of Kabaddi where she played from the national and university teams she accepted a marriage proposal which could have been a setback for her career. Her husband haling from a rural background from Jalgaon supported her for the game of Kabaddi, they got married in 1980.
"He didn't earn much, but my father-in-law sent me money to complete a course at NIS (National Institute of Sports). The Jain community isn't always very forward-thinking but my in-laws were, despite coming from a village," she says.
The support from her in-laws was a driving force for her to become a top level coach. She successfully cleared the coach's exam and post that trained more than 300 players to make it big in the world of Kabaddi. She quit her job from NIS in 2014, Iran still had a desire to appoint her as their team's coach the offer which she had rejected more than 8 years ago.
Iranian players posses great fitness skills, be it their men or women they are strong and rugged both mentally and physically. This was why despite a blow on her head star raider Ghazal Khalaj continued to play till the final whistle.
She was the final authority when it came to final selection of the team. The 12 players that made it to the list were trained to be the best in every possible way. Apart from the physical fitness, being mentally strong is a characteristic that every sportsman must posses.
When you dream of something and start working on the same with efforts that lead to such a sweet victory, it gives a sense of completeness and fulfillment to be known as a Asian Games winning Kabaddi Coach.