Asian Games 2018: All you need to know about Kabaddi Competition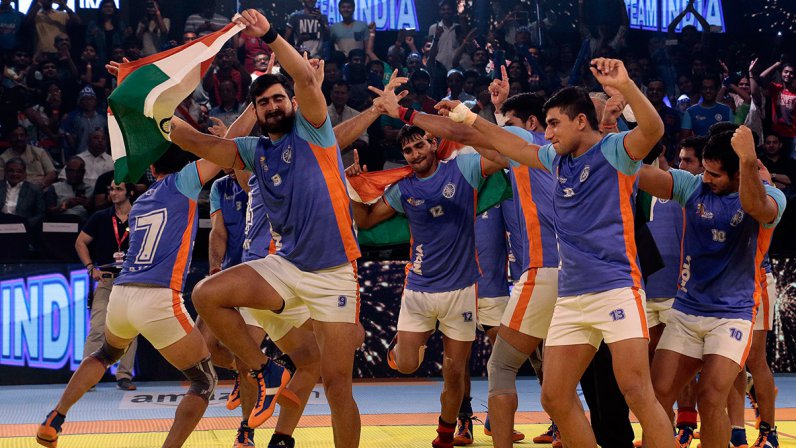 As Indian Kabaddi Team will aim to grab their 8th consecutive gold in Asian Games they will face Bangladesh, Sri Lanka, South Korea and Thailand in the group stage.
Captain Ajay Thakur and his army will play their first match against Bangladesh on 19th August. As far as group stage is concerned India can easily qualify for the semi-finals. Only South Korea can create some problems in the path of reaching towards the semis.
Talking about Payal Chowdhary's Women's Kabaddi Team they will play against Thailand, Japan, Sri Lanka and Indonesia. The Indian Women's team will play an inaugural match against Japan. Women's team can only face a challenge in the semis as their path for the semis is the easier one.
Both Indian men's and women's team are expected to win the gold medal. Semifinal matches will be played on 23rd August. There will be final on 24th August. All the matches will be played at Garuda Theater, Jakarta.
Here is the schedule of Kabaddi event in the upcoming Asian Games 2018:
19 August 2018 – Sunday
7:30 AM: (Women's Group A) India vs. Japan
8:20 AM: (Women's Group B) Iran vs. South Korea
9:10 AM: (Women's Group A) Thailand vs. Sri Lanka
10:00 AM: (Women's Group B) Bangladesh vs. Chinese Taipei
10:50 AM: (Women's Group A) Japan vs. Indonesia
12:30 PM: (Men's Group A) India vs. Bangladesh
01:30 PM: (Men's Group B) Iran vs. Japan
02:30 PM: (Men's Group A) South Korea vs. Thailand
03:30 PM: (Men's Group B) Pakistan vs. Malaysia
04:30 PM: (Men's Group B) Nepal vs. Indonesia
05:30 PM: (Men's Group A) India vs. Sri Lanka
20 August 2018 – Monday
7:30 AM: (Women's Group A) Sri Lanka vs. Indonesia
8:20 AM: (Women's Group B) South Korea vs. Chinese Taipei
9:10 AM: (Women's Group A) India vs. Thailand
10:00 AM: (Women's Group B) Iran vs. Bangladesh
10:50 AM: (Women's Group A) Japan vs. Sri Lanka
12:30 PM: (Men's Group A) Bangladesh vs. Thailand
01:30 PM: (Men's Group B) Japan vs. Malaysia
02:30 PM: (Men's Group A) India vs. South Korea
03:30PM: (Men's Group B) Iran vs. Pakistan
04:30 PM: (Men's Group A) Thailand vs. Sri Lanka
05:30 PM: (Men's Group B) Indonesia vs. Japan
21 August 2018 – Tuesday
7:30 AM: (Women's Group A) India vs. Sri Lanka
8:20 AM: (Women's Group B) Iran vs. Chinese Taipei
9:10 AM: (Women's Group A) Thailand vs. Japan
10:00 AM: (Women's Group B) Bangladesh vs. South Korea
10:50 AM: (Women's Group A) India vs. Indonesia
12:30 PM: (Men's Group B) Malaysia vs. Indonesia
01:30 PM: (Men's Group A) Bangladesh vs. Sri Lanka
02:30PM: (Men's Group B) Japan vs. Nepal
03:30 PM: (Men's Group A) India vs. Thailand
04:30 PM: (Men's Group B) Iran vs. Malaysia
05:30 PM: (Men's Group B) Pakistan vs. Indonesia
22 August 2018 – Wednesday
12:30 PM: (Men's Group B) Iran vs. Nepal
01:30 PM: (Men's Group B) Pakistan vs. Japan
02:30 PM: (Men's Group A) South Korea vs. Bangladesh
03:30 PM: (Men's Group B) Malaysia vs. Nepal
04:30 PM: (Men's Group B) Iran vs. Indonesia
23 August 2018 – Thursday
07:30 AM: (Men's Group A) South Korea vs. Sri Lanka
08:30 AM: (Men's Group B) Pakistan vs. Nepal
09:30 AM: (Women's Group A) Thailand vs. Indonesia
01:30 PM: (Women's) Winner Group A vs. Runners Up Group B
02:20 PM: (Women's) Winner Group B vs. Runners Up Group A
03:30 PM: (Men's) Winner Group A vs. Runners Up Group B
04:30 PM: (Men's) Winner Group B vs. Runners Up Group A
24 August 2018 – Friday
01:30 PM: (Women's) Winner SF 1 vs. Winner SF 2 Gold Medal Match
03:30 PM: (Men's) Winner SF 1 vs. Winner SF 2 Gold Medal Match