Bengal Warriors Team Analysis for PKL 8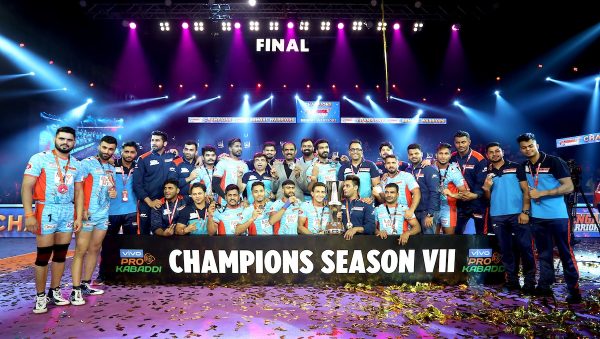 Birthright Games and Entertainment Private Limited owned Bengal Warriors team won the trophy in season seven of Pro Kabaddi League. The team retained Maninder Singh, Rinku narwal, Ravindra Kumawat and Esmaeil Nabibakhsh for season 8. Maninder Singh is the captain of this team and coach BC Ramesh will train the team. UP Yoddha is the first obstacle in their way to defend the title. Bengal will take on UP Yoddha on season 8 opening day i.e. 22nd December.
18 players will be part of the Bengal Warriors in PKL 8.
Bengal Warriors Squad in PKL 8:
Akash Pikalmunde, Anand V, Maninder Singh, Ravindra Kumawat, Rishank Devadiga, Sukesh Hegde, Darshan J, Vijin Thangadurai, Amit, Parveen, Sachin Vitthala, Abozar Mohajermighani, Rinku Narwal, Rohit Banne, Esmaeil Nabibakhsh, Manoj Gowda, Rohit, Tapas Pal.
Complete Analysis:
Raiders
6 raiders are in the raiding department of Bengal Warriors. Captain Maninder Singh will be team's primary raider. His captainship and raiding both were beneficial for the team. Maninder picked up 205 raid points in season 7. Sukesh Hegde complimented him well with 61 raid points. Sukesh Hegde or Esmaeil will be the third raider. Rishank Devadiga can also be seen raiding in case of no results or injury to both of them. Also Akash Pikalmunde, Anand V, Ravindra Kumawat may be the substitutes.
Defenders
8 defenders will be defending Bengal Warriors in the upcoming Pro Kabaddi League season 8. Left corner Rinku Narwal's defensive show (64 tackle points in 23 matches) was one of the major reasons behind Bengal's success in PKL 7. Right corner Abozar Mohajermighani will be seen playing for the team. Rinku and Abozar defensive partnership will be significant in deciding how Bengal performs in PKL 8. For the position of right cover Vijin Thangadurai and Darshan J are there. Due to no prominent left cover in the team, Iranian all-rounder Esmael Nabibakhsh may play as a left cover. Young players like Amit, Parveen, Sachin Vithtala, Rohit Banne can be substitutes in defense.
All-Rounders
4 players will show their all-round skills for the Bengal Warriors. Esmaeil Nabibakhsh might concentrate on his defense more. Be it raiding or defending his footwork on the mat will be a key to success for Warriors. Manoj Gowda, Tapas Pal and Rohit also may be given an opportunity if things do not go well.
The team is successful in keeping with them same raiders who lifted the trophy for them. While offensive side looks great on the paper there is a lack of experienced left cover. If the team works on this point there will not be any difficulty in retaining the title.
Possible Starting 7 for Bengal Warriors in initial matches of PKL Season 8:
Right Corner – Abozar Mohajermighani
Right In – Sukesh Hegde
Right Cover – Vijin Thangadurai
Center – Maninder Singh
Left Cover – Esmaeil Nabibakhsh
Left In – Ravindra Kumawat
Left Corner – Rinku Narwal