Bengaluru Bulls Team Analysis For Pro Kabaddi Season 6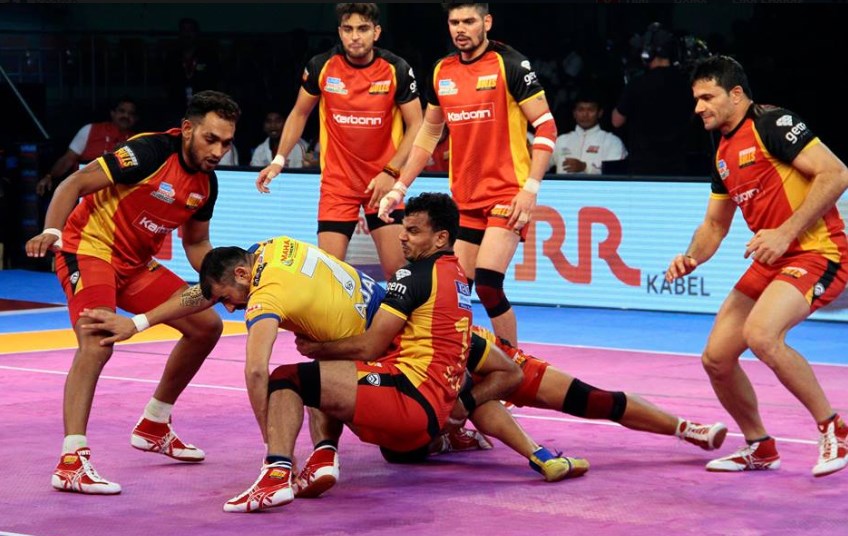 WL League Pvt. Ltd. is the owner of Bengaluru Bulls team. Randhir Singh has been their coach since season 1. In season 1 Bulls stood at 4th position in the league. Bengaluru was runner-up in season 2.
Bengaluru Bulls has never shown spark after first two seasons. If you release players like Ajay Thakur, Manjeet Chhillar, Dharmaraj Cheralathan, and Somvir Shekhar then the result is obvious. Bulls team has never recovered after that situation.
For season 6, obviously they retained Rohit Kumar. In the auctions, they purchased Kashiling Adake, Jasmer Gulia and their old players Mahender Rajput, Pawan Kumar Sehrawat, Ashish Kumar. With some new and old players, the Bulls would like to set their target to qualify for the playoffs.
The 20 members squad is ready to play for Bengaluru Bulls.
Here is a complete analysis of the Bengaluru Bulls squad :
Raiders 
Bengaluru has a total of 8 raiders in the team. Rohit Kumar one of the best raiders of the league, is in the team. He has scored 414 raid points from 48 matches. He has scored a century of points in each season since his debut in season 3. He is one of the most consistent players of PKL.
The Season 2 best raider Kashiling Adake will be donning Bengaluru Jersey in the upcoming season of PKL. He has 494 raid points from 72 matches to his credit. He was part of the Dabang Delhi K.C. before joining U Mumba in the 5th season. A lot of expectations are bound to happen for a player of his stature.
Pawan Kumar Sehrawat is the third raider in the raiders list. He has shown his skills in his debut, the season 3 by taking 45 points in 13 matches. Though he has not played with his caliber in season 4 and 5 we can expect him to perform well for the team this season.
Sumit Singh, Harish Naik, Anand V, and Anil are other players in the raiding department. Raiding side of Bengaluru Bulls looks impressive. Prime raider Rohit Kumar is expected to get support from Kashiling and Pawan.
Defenders
8 defenders are in the Bulls squad. Mahender Rajput is one of them. Having 57 tackle points to his name from 22 matches Mahender Singh has made his debut season memorable. He will be their reliable defender.
Ashish Kumar is in the defenders list as well. He has performed well for Bengaluru Bulls in past two seasons and is expected to do the same this season as well.
Raju Lal Choudhary, Mahendra Singh Dhaka, Amit Sheoran, Sandeep, Jawahar Vivek K, and Nitesh B are other defenders who will be seen defending Bengaluru Bulls in the approaching season of PKL.
Bengaluru Bulls defense has some talented defenders but the lack of experience is what they need to work on with the team.
All-Rounders
There are 4 all-rounders in the Bulls squad. Jasmer Singh Gulia will be part of Bulls team. He had played from Dabang Delhi before switching to Puneri Paltan in season 3.
He did not play season 5 as he was not picked by any team. He is a defensive all-rounder. Bengaluru Bulls will use him as a defender only and will be expecting the same performance like season 1 and 3 by him.
Mahesh Magdum is another all-rounder in the team. South Korean players Dong Ju Hong and Gyung Tae Kim will play for Bengaluru Bulls.
None of these all-rounders are reliable or consistent. Jasmer missed last season whereas others lack experience.
Bengaluru Bulls consist of young team with talent, but how do they utilise the players and their potential is the thing to look out for.
Possible starting seven for Bengaluru Bulls in initial matches of PKL Season 6:
Right Corner – Jasmer Gulia
Right In – Kashiling Adake
Right Cover – Ashish Kumar
Center – Rohit Kumar
Left Cover –  Mahender Rajput
Left In – Pawan Kumar Sehrawat
Left Corner – Dong Ju Hong