Best Possible Starting Seven of PKL 6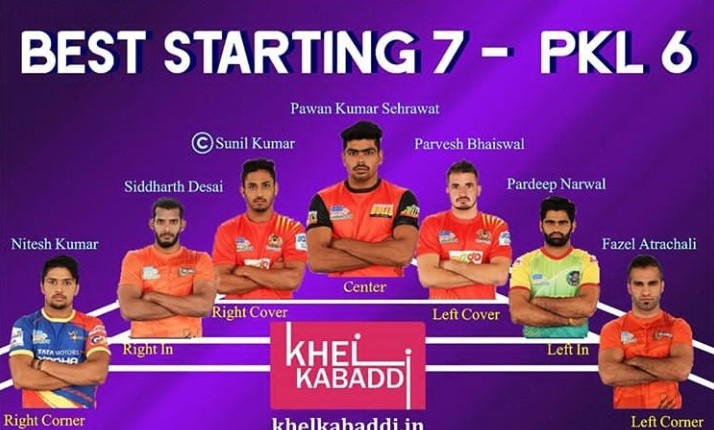 Pro Kabaddi League campaign 6 has been ended. Bengaluru Bulls won the trophy there. The season 6 journey has been a memorable one for the fans and players also. This season saw a player like Siddharth Desai who broke all the records with his performance and a legendary player like Anup Kumar who bid farewell to the game.
Young players like Siddharth Desai, Naveen Kumar, Ruturaj Koravi, Naveen, Manjeet, Baldev Singh, Ruturaj Koravi and Narender marked successful debut at PKL. Established players such as Pardeep Narwal, Ajay Thakur, Deepak Niwas Hooda, Fazel Atrachali, Manjeet Chhillar, Ravinder Pahal have continued their performances. Pawan Kumar Sehrawat, Vikash Khandola, Sachin, Nitesh Kumar, Parvesh Bhainswal and Sunil Kumar have improved their game.
Looking at the performances of the players best PKL 6 team can be made where Nitesh Kumar and Fazel Atrachali will be the corner defenders. Pardeep Narwal, Siddharth Desai and Pawan Kumar Sehrawat will be the raiders. Sunil Kumar and Parvesh Bhainswal will be the cover defenders combination. As well as Sunil will be the captain of this dream team of PKL 6.
According to the statistics/performance following are the players of PKL 6's best starting seven:
1) Nitesh Kumar, Right Corner (UP Yoddha)
Ankle hold specialist Nitesh Kumar is the most tackle points scorer defender. He has scored 100 tackle points from 25 games with holding an average of 4 tackle points per match. He has 8 Super Tackles and 8 High 5's to his name. He has won 'Best Defender of The Season' award of PKL 6. The right corner has set the new record of most tackle points in a season. Nitesh has a major contribution in UP Yoddha's journey till the playoffs.
2) Siddharth Desai, Right In (U Mumba)
'Record-breaker' Siddharth Desai is the fastest player to score 50 raid points. He jointly holds the record with Rahul Chaudhari of scoring fastest 100 raid points. He is the only player to score 200 raid points in maiden PKL appearance. Running hand touch is his signature move. Siddharth took U Mumba into the playoffs of PKL 6. Siddharth Desai cliched 218 raid points from 21 matches. He has scored 12 Super 10's and 10 Super Raids with an impressive average of 10.38 raid points.
3) Sunil Kumar, Right Cover and Captain (Gujarat Fortunegiants)
Gujarat Fortunegiants captain and left cover Sunil Kumar has grabbed 76 tackle points from 25 matches with holding an average of 3.04 tackle points per match. He has 4 Super Tackles and 3 High 5's to his name. Blocks and dashes are his signature moves. Sunil led his team's defence from the front till the final. As a result, Gujarat defence was counted as one of the deadliest defense of the campaign. His defencive partnership with the right cover Parvesh Bhainswal was one of the best in the league.
4) Pawan Kumar Sehrawat, Center (Bengaluru Bulls)
Pawan Kumar Sehrawat won the 'Most Valuable Player of the Tournament' award. He was phenomenal for the PKL winner Bengaluru Bulls throughout the tournament. Running hand touch is the signature raiding move of Pawan. Pawan has 271 raid points to his name from 24 matches with 12 Super Raids and 13 Super 10 in season 6. He holds the average of 11.29 raid points.
5) Parvesh Bhainswal, Left Cover (Gujarat Fortunegiants)
PKL 6 runner-up Gujarat Fortunegiant's Parvesh Bhainswal has clinched 86 tackle points from 25 matches. Left cover Parvesh has formed a best defencive partnership with his skipper Sunil Kumar in the league. Parvesh has the signature move block which has made him successful in PKL 6. He holds an average of 3.44 tackle points per match. Also, he has 4 Super Tackles and 5 High 5's to his name.
6) Pardeep Narwal, Left In (Patna Pirates)
Even if three times title holders Patna Pirates did not qualified for the playoffs their skipper Pardeep Narwal did not let down the expectations of his fans. Consistent Pardeep was given a splendid performance one again. He took the charge of his team's raiding attack. Dubki king Pardeep notched 216 raid points from 19 matches with holding an average of 11.1. He scored 15 Super 10's and 6 Super Raids.
7) Fazel Atrachali, Left Corner (U Mumba)
U Mumba skipper Fazel Atrachali grabbed 83 tackle points from 23 matches. 6 High 5's and 3 Super Tackles are scored by him with an average of 3.61. He was the backbone of U Mumba's defencive combination. His combination with left cover Surinder Singh was also significant for U Mumba to make it till the playoffs after a gap of two seasons. Ankle hold and dash are the most used moves by Fazel.
Best Possible Starting Seven of PKL Season 6:
Right Corner – Nitesh Kumar
Right In – Siddharth Desai
Right Cover – Sunil Kumar (C)
Center – Pawan Kumar Sehrawat
Left Cover – Parvesh Bhainswal
Left In – Pardeep Narwal
Left Corner – Fazel Atrachali