Best Possible Starting Seven Of PKL 8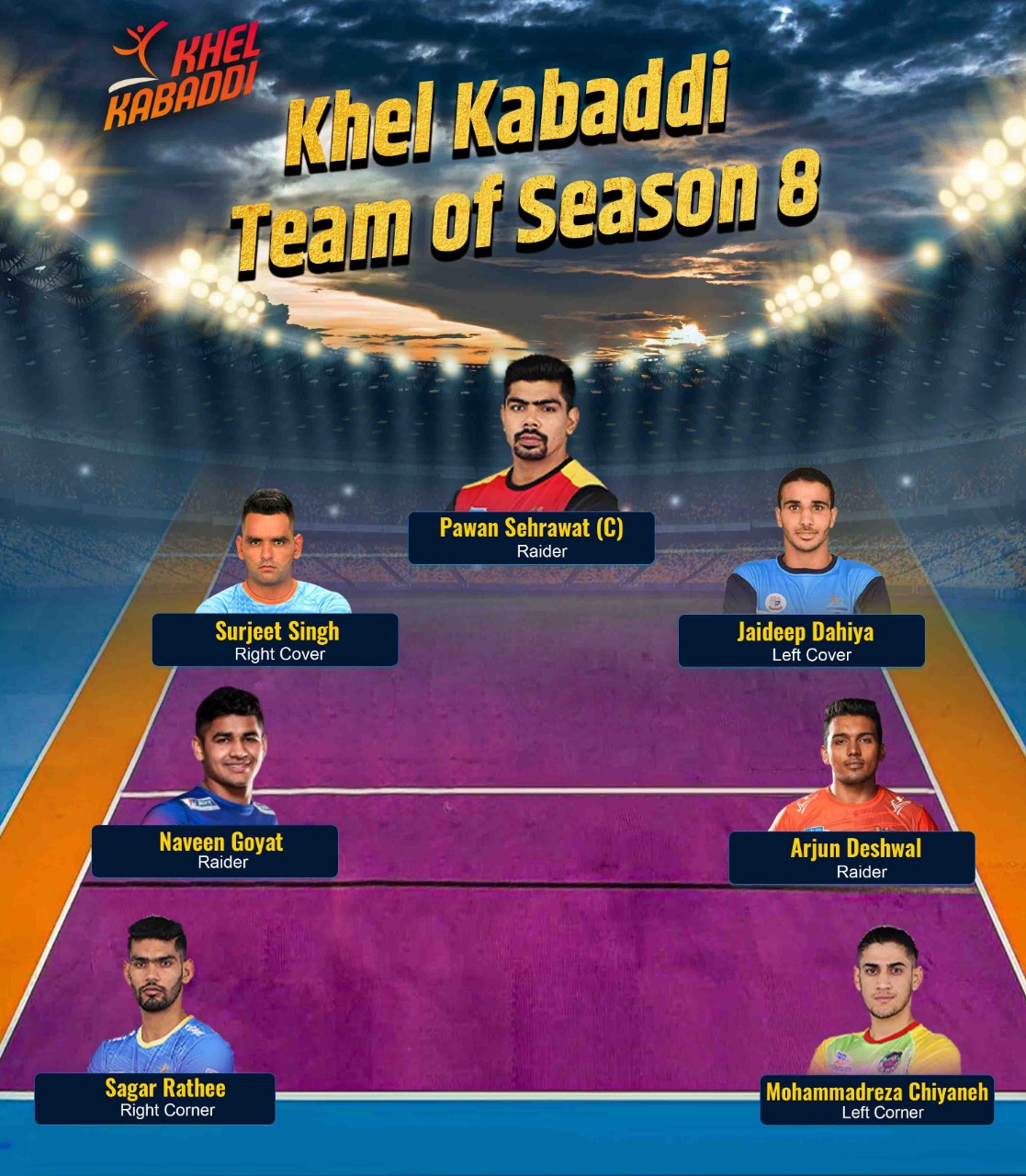 Vivo Pro Kabaddi League campaign 8 has been ended. Dabang Delhi K.C. won the trophy there. This season was quite different experience for the players & fans too because of no fans in the stadium. Many young players made their debut, many established players continued their form & kept going while some of the players could not live up to the expectations.
Looking at the performances of the players best PKL 8 team can be made where Sagar & Mohammadreza Chiyaneh will be the corner defenders. Naveen Kumar, Arjun Deshwal & Pawan Kumar Sehrawat will be the raiders. Jaideep & PO Surjeet Singh will be the cover defenders combination. As well as Pawan will lead this team.
According to the statistics/performance following players make the Best Starting Seven of PKL 8:
Best Possible Starting Seven of PKL Season 8:
1) Sagar , Right Corner – Tamil Thalaivas
Tamil Thalaivas right corner Sagar has clinched 82 tackle points from 22 matches. Also, he has 8 Super Tackles & 8 High 5's to his name. He took the responsibility of Tamil defense department on his shoulders. His team got eliminated from the league stage.
2) Naveen Kumar, Right In – Dabang Delhi K.C.
Naveen Kumar won the 'Most Valuable Player of the Tournament' award in this season. He played a major role in Delhi's trophy hunt as he was top raider for Delhi. Due to injury he had to miss 7 matches. But still he ended up being in the top raider's chart. He clinched 207 raid points from 17 matches He has 12 Super 10's & 3 Super Raids to his name
3) PO Surjeet Singh, Right Cover – Tamil Thalaivas
Tamil Thalaivas right cover & skipper PO Surjeet Singh grabbed 53 tackle points from 24 matches. 2 High 5's & 4 Super Tackles are scored by him. He led his team defense along with right corner Sagar. But his team got eliminated from the league stage.
4) Pawan Kumar Sehrawat, Center & Captain – Bengaluru Bulls
Bengaluru Bulls skipper Pawan Kumar Sehrawat won the 'Raider of the Tournament' award. 'High Flyer Pawan' was phenomenal for his team Bengaluru Bulls till the semi-finals. Pawan has 304 raid points to his name from 24 matches with 6 Super Raids & 18 Super 10 in season 8. He is the only player to cross '300 Raid Points' in this season.
5) Jaideep, Left Cover – Haryana Steelers
Haryana Steeler's left cover & top defender Jaideep has notched up 66 tackle points from 22 matches. He has 5 Super Tackles & 5 High 5's to his name. Jaideep made successful debut in the league. Unfortunately Haryana could not make it to the playoffs.
6) Arjun Deshwal, Left In – Jaipur Pink Panthers
Even if inaugural champions Jaipur Pink Panthers did not qualified for the playoffs their raider Arjun Deshwal did not let down the expectations of his fans. Arjun gave a splendid performance & justified his price tag as a second most expensive B category player in PKL 8. He notched 267 raid points from 22 matches. He scored 16 Super 10's & 6 Super Raids.
7) Mohammadreza Chiyaneh, Left Cover – Patna Pirates
Iranian defender Mohammadreza Chiyaneh is the most tackle points scorer in his debut PKL edition. He is most expensive overseas player of this season. He has scored 89 tackle points from 24 games. He has 3 Super Tackles & 10 High 5's to his name. He won 'Defender of The Season' award of PKL 8. His defense from his left corner position made Patna Pirates runner up in this season.
Best Possible Starting Seven of PKL Season 8:
Right Corner – Sagar
Right In – Naveen Kumar
Right Cover – PO Surjeet Singh
Center – Pawan Kumar Sehrawat (C)
Left Cover – Jaideep
Left In – Arjun Deshwal
Left Corner – Mohammadreza Chiyaneh