Best team of PKL players who have not played for India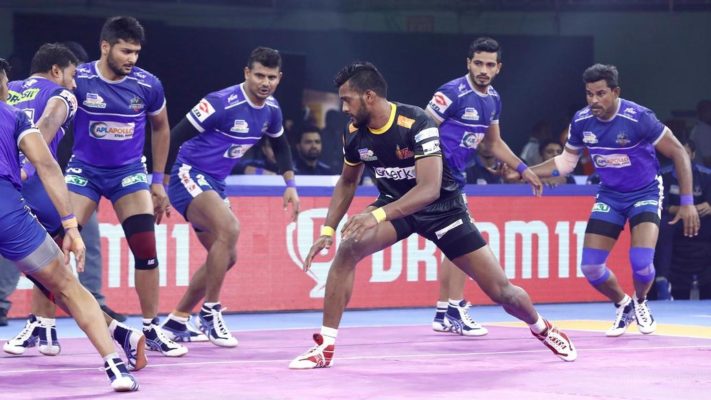 The Pro Kabaddi League started in India in 2014, six years ago. This league changed the fortunes of many young kabaddi players. Many players became stars overnight as the skills of these players from different parts of India came to the fore. Pro Kabaddi also opened the doors of the Indian Kabaddi team to some players. However, there are some players who have done well in the Pro Kabaddi League but are still waiting for a place in the Indian team.
Khel Kabaddi has created a team of players who are the stars of pro kabaddi and could not get a place in the Indian kabaddi team.
1. Siddharth Desai (Raider) – Siddharth made his debut for U Mumbai in the sixth season of Pro Kabaddi. Siddharth announced his arrival in a big way by scoring Super 10 in his first match. He set a record of 50 points in just 4 matches this season. Siddharth had scored Super 10 in five of his first six matches. On the strength of his good performance in the sixth season, in the seventh season, the Telugu Titans included Siddharth in their team by spending a whopping 1.45 crore. Siddharth became the most expensive player in the seventh season. In the seventh season too, Siddharth scored a total of 220 points with the help of 10 Super 10s. Currently, Siddharth is playing for Indian Railways. Despite his excellent performances in two seasons of the Pro Kabaddi League, Siddharth is still looking forward to playing for the Indian team.
2. Nilesh Salunke (Raider) – After playing seven matches in the third season for the Puneri Paltan, Nilesh started playing for the Telugu Titans in the fourth season. Since then, his performance graph has been steadily rising. In the fourth and fifth seasons of Pro Kabaddi, Nilesh became the second-best raider for the Telugu Titans after Rahul Chaudhary. In the fifth season, he showed his brilliance by scoring 98 points. He has been playing for Jaipur Pink Panthers since the seventh season. Born into a poor family in Kalyan, Nilesh caught everyone's attention with his excellent performance in Pro Kabaddi. He played for Maharashtra in the 2018 Senior National Championship. Nilesh, who works for the income tax department in Pune, is hoping to get a chance to play for the Indian team soon.
3. Pankaj Mohite (Raider) – Pankaj caught everyone's attention with his excellent performance in Khelo India. On the strength of this performance, the Puneri Paltan took him in their team. Pankaj scored 110 points in his first season. Although the season has not been very good for the Puneri Paltan, many expressed the view that the team has found a new star in the form of Pankaj. In the Senior National Kabaddi Championship held in Jaipur in March 2020, he scored 75 points in 5 matches. Pankaj, who has earned a reputation as a good raider in a short span of time, is now looking for an opportunity to play for India. Pankaj's age is his strength. Therefore, his future is bright if he continues to keep doing well on the field.
4. Sandeep Dhull (Left Corner) – Sandeep caught everyone's attention at an early age as an excellent left corner. In the third and fourth seasons of Pro Kabaddi, playing for Dabang Delhi, he did well with 32 and 35 points respectively. He impressed with his super tackles while playing for Delhi. For some reason, Sandeep was not bought by any team in the fifth season of Pro Kabaddi. In the sixth season, however, Jaipur Pink Panthers bought him for Rs 66 lakhs. Returning to the field, Sandeep scored 67 points in 22 matches in the sixth season. Due to his good performance, the Jaipur team preferred to keep him in their squad for the seventh season. Realizing the team's faith in him, Sandeep scored 74 points this season. Given Sandeep's ascending graph, there is no doubt that he will soon find a place in the Indian team.
5. Baldev Singh (Right Corner) – Baldev Singh has to be named as a key component of the Bengal Warriors, who won the seventh season of Pro Kabaddi League. His pairing with Rinku Narwal has been very eye-catching this season. Baldev scored 67 points this season. This includes five super tackles and six high fives. Having done well in just two seasons of Pro Kabaddi, Baldev is confident of getting a place in the Indian team soon.
6. Ran Singh (Left Cover) – Ran Singh, who plays for Punjab, has made his mark since the first season of Pro Kabaddi. Ran Singh was also instrumental in the victory of the Jaipur Pink Panthers in their first season. After playing the first four seasons of Pro Kabaddi from Jaipur, he played for the Bengal Warriors in the fifth and sixth seasons. He did his best in pro kabaddi, scoring 52 points in the fifth season. He has a special grip on skills like ankle hold and the block. Ran Singh has been proving that he is no less than a good performer in all seven seasons of Pro Kabaddi. So it is safe to hope that he will get a chance in the Indian team soon.
7. Vikas Kale (Right Cover) – Vikas, who started playing Kabaddi a little late, proved his skills in a short span of time. Since the second season of Pro Kabaddi, he has played for teams like Bengal Warriors, Telugu Titans, U Mumbai, Patna Pirates. He has proved his mettle in the sixth and seventh seasons of Pro Kabaddi by scoring 39 points each. He won a gold medal for Maharashtra in the 2017-18 Senior National Kabaddi Championship. For this achievement, the Government of Maharashtra honored him with the Shiv Chatrapati Award in 2017-18. Vikas is confident that he will get a chance to play for India soon.