Chhatrapati Shivaji Maharaj Chashak Kabaddi Tournament got inaugurated in Islampur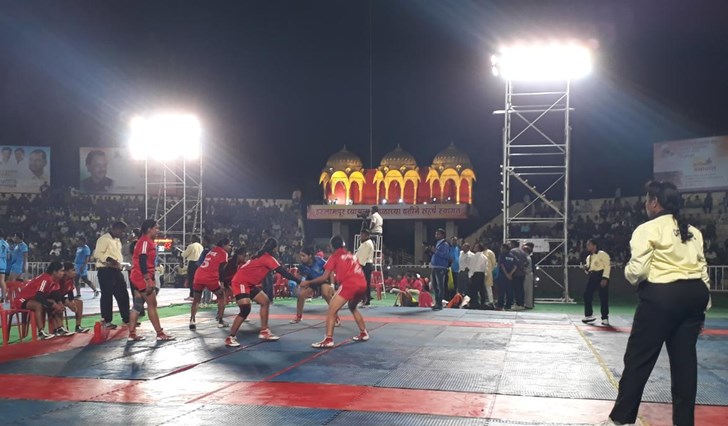 Directorate of Youth and Sports Services, Maharashtra State in association with District Sports Officer'sVidarbha State Kabaddi Association office and Sports Academy, Sangli and Pune District Kabaddi Association is hosting 'Chhatrapati Shivaji Maharaj Chashak' Kabaddi Tournament. The tournament is organized by MLA Jayantrao Patil.
Yesterday (20th December) this tournament was inuagurated by MLA Sadabhau Khot. A rally of all participated teams was arranged in the Islampur City. International Kabaddi player Nitin Madane took the pledge of the tournament along with other players. Hosts Sangli defeated Ahemadnagar 46-27. Nitin Madane and Rohit Bane were outstanding for Sangali.
Only one match was held yesterday. Due to some technical reasons yesterday's matches were rescheduled in today's morning session. In Men's section Raigad, Thane, Mumbai City, Nandurbar, Kolhapur and Pune won their matches at today's morning session. Talking about Women's section, Pune, Mumbai Suburb, Ratnagiri, Palghar, Thane, Nashik, Mumbai City and Nashik defeated their opponents and progressed in the tournament.
Day 1 Matches Results :
Men's Section :
1) Sangli 46 –  27 Ahemadnagar (Group B)
2) Raigad 46 – 18 Beed (Group A)
3) Thane 39 – 33 Ratnagiri (Group C)
4) Mumbai City 47 – 29 Nashik (Group D)
5) Nandurbar 54 – 17 Amaravati (Group A)
6) Kolhapur 34 – 15 Nagpur (Group B)
7) Pune 39 – 14 Bhandara (Group C)
Women's Section :
1) Pune 59 –  54 Satara (Group A)
2) Mumbai Suburb 36 – 21 Raigad (Group B)
3) Ratnagiri 48 – 15 Ahemadnagar (Group C)
4) Palghar 50 – 08 Sindhudurg (Group D)
5) Thane 45 – 17 Amaraavti (Group A)
6) Nashik 28 – 24 Nagpur (Group B)
7) Mumbai City 52 – 07 Akola (Group C)
8) Kolhapur 36 – 10 Bukdhana (Group D)