Chintamani Trophy Kabaddi Tournament Knockout matches schedule has been announced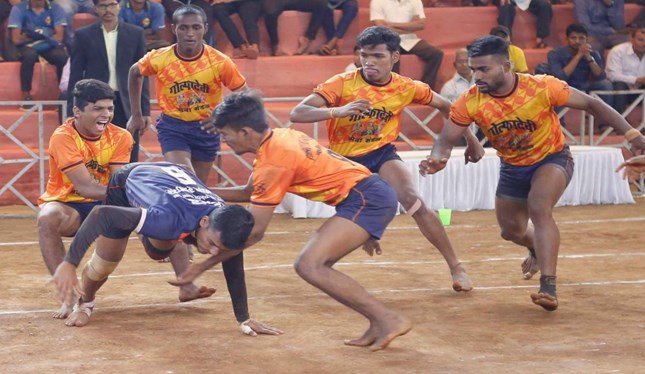 Maharashtra State Kabaddi Association and Mumbai City Kabaddi Association recognized Chinchpokali Sarvajink Ganeshotsav Mandal organized Junior State Level Kabaddi Tournament is being held at Sadguru Bhalchandra Maharaj Ground, Behind Ganesh Talkies, Lalbaug, Mumbai.
Golfadevi Mumbai managed to win 38-3 over Jai Bajrang Raigad with the courtesy of Dhananjay Sarod and Jayesh Warshi. They also won in their 'A' group. Even having a lead as 18-10 Gaphrin Gymkhana Thane had to satisfy with a tie 28-28 with Shree Ram Krida Mandal. Akshay and Pratik of Shree Ram Krida Mandal performed well.
Both teams had the same score points in the group. But with the advantage of the score difference, Shree Ram Krida Mandal was declared as a winner of their group. Waghjai Ratnagiri thrashed 46-23 Om Kalyan. Durgamata Sports Mumbai won over Vikas Krida Mandal Mumbai 30-28.
18 group stage matches were played in 2 two days. 12 teams got qualified for the knockout stage. Durgamata Sports Mumbai, Golfadevi Mumbai, Waghjai Ratnagiri and Shree Ram Krida Mandal straightly made it to the quarter-finals. Rest of the 8 teams will play pre-quarterfinals.
Today's Schedule :
Pre-quarterfinal Matches
1) Om Kalyan Thane VS Utkarsh Krida Mandal Pune
2) Jai Bajrang Raigad VS Bajrang Vyayam Mandal Mumbai
3) Gaphrin Gymkhana VS Samrat Krida Mandal Sangli
4) Shree Sai Nashik VS Siddhi Prabha Mumbai
Quarterfinal Matches
1)  Durgamata Sports Mumbai VS Winner of Pre-Quarterfinal Match 1
2) Shree Ram Krida Mandal VS Winner of Pre-Quarterfinal Match 2
3) Golfadevi Mumbai VS Winner of Pre-Quarterfinal Match 3
4)  Waghjai Ratnagiri VS Winner of Pre-Quarterfinal Match