Chiyaneh's deadly defense led Patna to crush Gujarat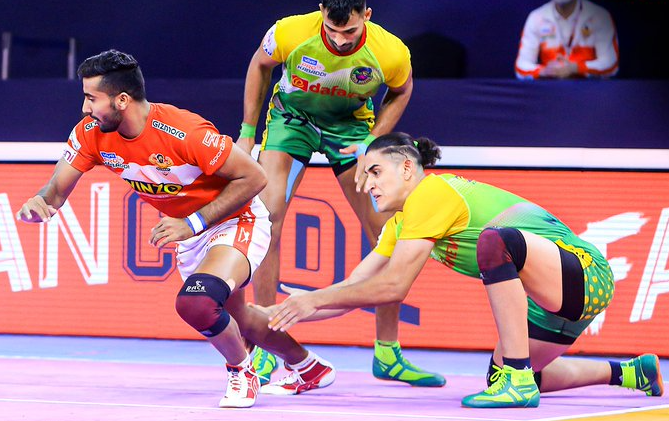 Tonight in Vivo Pro Kabaddi League season 8, three times champion Patna Pirates comfortably win against their arch rivals Gujarat Giants by a huge margin of 20 points. The winning score of Pirates is 43-23.
Gujarat Giants had a solid start with getting Patna Pirates all-out in first few minutes. But Patna Pirates made a comeback & repaid the all-out on Gujarat Giants. Patna led first half as the score was 18-16.
In the second half Pirates got Giants out. Within 10 minutes Gujarat was all-out for the third time. Patna raider Guman Singh & defender Mohammadreza Chiyaneh were playing fabulously.
Patna made sure that Gujarat will not get any chance to comeback in the game. In the end Pirates comfortably beat the Giants & become the first team to score 10 wins in PKL 8.
Patna raider Guman Singh scored a super 10 with 11 raid points. Sachin scored 6 raid points. Mohammadreza Chiyaneh had a high 5 to his name with massive 8 tackle points.
He completed '50 Tackle Points' in his debut PKL season 8. Sunil got 3 tackle points. Gujarat raider Mahendra Rajput got 4 raid & 2 tackle points. Pardeep Kumar took 4 raid points.
Best Raider: Guman Singh – Patna Pirates –11 Raid Points
Best Defender: Mohammadreza Chiyaneh – Patna Pirates – 8 Tackle Points