Dabang Delhi K.C. is the PKL 8 champion !!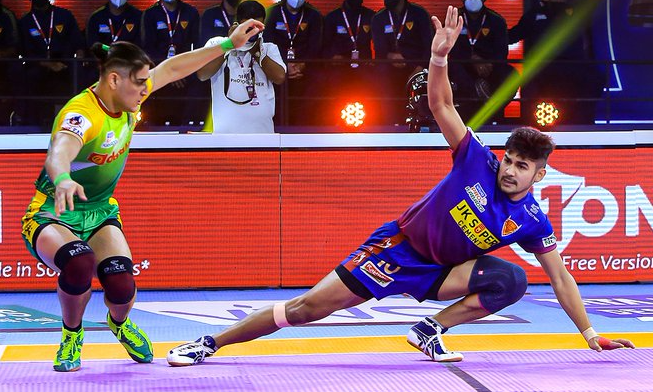 Tonight in the final match of Vivo Pro Kabaddi League season 8, Dabang Delhi K.C. thrashed three times champion Patna Pirates 37-36. Delhi has won their maiden PKL title.
Both Dabang Delhi K.C. & Patna Pirates started off the game with taking one to one point. Patna Pirates did it better as they inflicted an all-out on Dabang Delhi K.C.
Still Delhi made sure that the lead does not increases for more points. The halftime score was Patna 17 & Delhi 15. The second half also witnessed neck to neck battle.
It was a perfect match for the fans to watch their favourite teams. Patna Pirates managed to maintain their lead. Delhi raiders Naveen Kumar & Vijay were trying to reduce it.
After that Dabang Delhi K.C. got Patna Pirates out. Dabang Delhi was in lead with 2 points. The score was 30-28. They maintained it until the score went up to 36-33.
Two back to back raid points from Patna's Mohammadreza Chiyaneh put Patna closer to Delhi. The score was 36-35. In the very next raid Delhi's Naveen dismissed him.
Patna's Monu got Sandeep Narwal. The score was 37-36 favouring Delhi. The last raid was put by Naveen where he just crossed the baulkline. Delhi won their maiden title.
Delhi raider Naveen Kumar clinched his 12th super 10 in PKL 8 & overall 42nd super 10 in his PKL career. He earned 13 raid points. He also crossed '200 Raid Points' in PKL 8.
Vijay scored a super 10 with 13 raid points. He got 1 tackle point too. Manjeet Chhillar pickd up 2 tackle points. Sandeep Narwal had 1 raid & 1 tackle points.
Patna raider Sachin notched up 1 tackle & 9 raid points. Guman Singh got 9 raid points. Mohammadreza Chiyaneh had 3 raid & 2 tackle points.
Best Raiders:
Naveen Kumar – Dabang Delhi K.C. – 13 Raid Points
Vijay – Dabang Delhi K.C. – 13 Raid Points
Best Defenders:
Manjeet Chhillar – Dabang Delhi K.C. – 2 Tackle Points
Mohammadreza Chiyaneh – Patna Pirates – 5 Tackle Points