Dabang Delhi K.C. stay unbeaten in PKL 8 as they cruise past UP Yoddha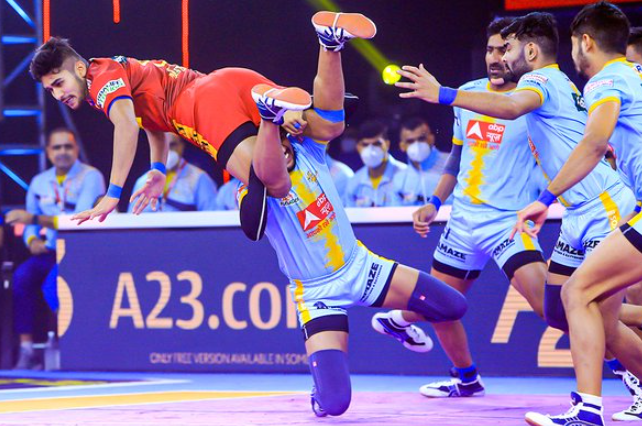 The fourth day of week three in Vivo Pro Kabaddi League season eight started with an intriguing encounter. In the first match Dabang Delhi K. C. defeated UP Yoddha 37-33. Delhi is still unbeaten in PKL 8.
The game initiated with UP Yoddha snatching points early. PKL Star raider Pardeep Narwal and Surender Gill was doing well in the raiding. UP defense kept Naveen off the game.
Half time score was 18-13 in favour of UP Yoddha. In the second half 'Naveen Express' started raiding aggressively. His quick raid points and team's defense got them points.
The lead of UP Yoddha was vanished and Dabang Delhi was ahead in the score board. Capitalizing on this Delhi team levelled up their game and defeated UP Yoddha smartly.
Naveen picked up super 10 with 17 raid points. It is his 7th super 10 in PKL 8. Vijay supported him with 7 raid points. Defender Manjeet Chillar took 4 tackle points.
For UP Yoddha, Pardeep Narwal picked up 9 raid points. Surender Gill had 8 raid points. Shubham Kumar and Ashu Singh earned 3 tackle points each.
Best Raider: Naveen Kumar – Dabang Delhi K.C. – 17 Raid Points
Best Defender: Manjeet Chhillar – Dabang Delhi K.C. – 4 Tackle Points