Day 1 of Kabaddi witnessed thrilling matches at Khelo India Youth Games 2019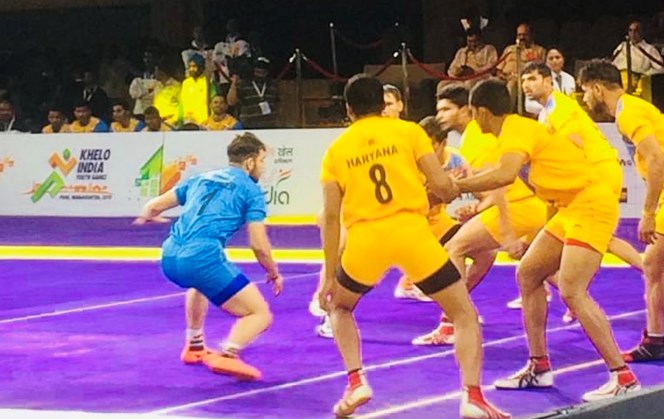 The Indian Central Government in associate with Maharashtra State Government has organized 2nd Khelo India Youth games at Shree Shiv Chhatrapati Sports Complex, Pune. Kabaddi's matches have been started from yesterday (14th January).
In the U-17 Girls category, Chhattisgarh crushed Telangana 40-20. In the next match host Maharashtra got defeated by Uttar Pradesh 30-31. Maharashtra led 26-22 in the Under-17 category. Uttar Pradesh then turned the tables and led 30-28, with just one minute left for the final whistle.
At this point, the electronic scoreboard stopped working but officials kept the game going by putting up the scores by hand. At the final whistle, the teams were tied 30-30 but the officials awarded a technical point to Uttar Pradesh and declared them winners.
In the U-17 boy's category Haryana, Delhi, and Chhattisgarh beat their opponents to move forward in the tournament. Maharashtra U-21 Girls won their match 33-27 against West Bengal. But their U-21 boys had hard luck as they got defeated by Punjab 20-24. Haryana won 44-38 over Uttar Pradesh.
Day 1 Results : 
1) Chhattisgarh 40 VS 20 Telangana (Group B Girls U-17)
2) Uttar Pradesh 31 VS 30 Maharashtra (Group A Girls U-17)
3) Delhi 42 VS 33 Uttar Pradesh (Group A Boys U-17)
4) Maharashtra 33 VS 27 West Bengal (Group B Girls U-21)
5) Haryana 43 VS 32 Tamil Nadu (Group A Boys U-17)
6) Chhattisgarh 39 VS 38 Madhya Pradesh (Group B Boys U-17)
7) Uttar Pradesh 38 VS 44 Haryana (Group A Boys U-21)
8) Maharashtra 20 VS 24 Punjab (Group B Boys U-21)