Day 1 Results: 36th National Games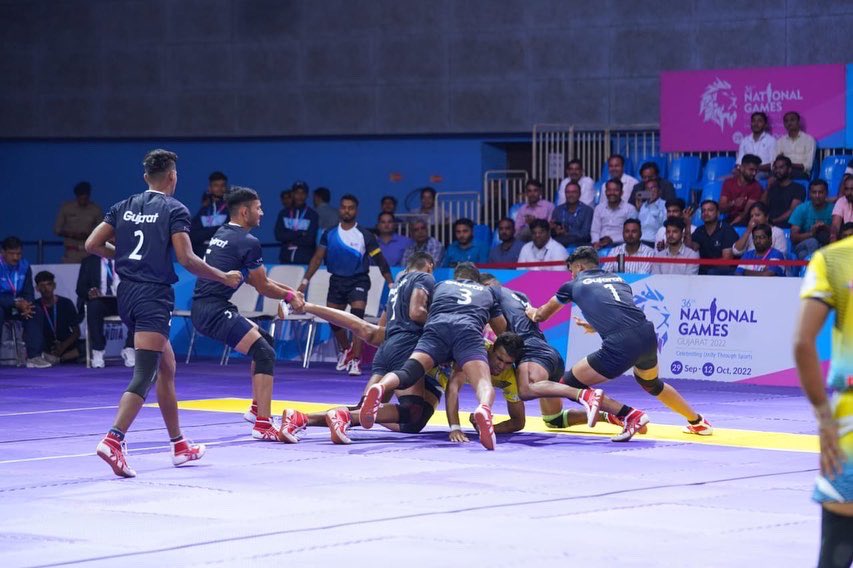 The National Games event is being held from 27th September to 10th October 2022 in six cities of Gujarat such as Ahmedabad, Gandhinagar, Surat, Vadodara, Rajkot and Bhavnagar.
The inaugural function of the 36th National Games held at the Narendra Modi stadium. 36 games including Kabaddi are part of this National Games.
8 teams each in the Men & Women category i.e. 16 state Kabaddi teams are competing here. These teams are qualified due to their performance at National Games.
Kabaddi matches are being held at EKA Arena By TransStadia, Ahmedabad. In this championship, 8 teams are categorized into 2 groups i.e. 4 teams in 1 group.
Gujarat, Maharashtra, Haryana, Services in men's category & Bihar, Maharashtra, Haryana in women's category had a winning start here.
Day 1 Results:
Men's Category:
1) Goa 27 Vs 56 Gujarat
2) Maharashtra 49 Vs 25 Tamilnadu
3) Haryana 38 Vs 33 Uttar Pradesh
4) Services 66 Vs 32 Chandigarh
Women's Category:
1) Bihar 38 Vs 15 Gujarat
2) Himachal Pradesh 31 Vs 32 Maharashtra
3) Haryana 41 Vs 26 Tamilnadu