Day 2 Results: 68th Senior National Kabaddi Championship Women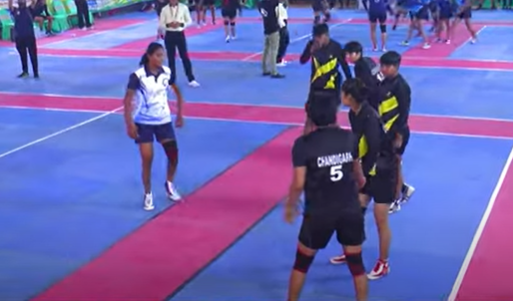 Amateur Kabaddi Federation of India (AKFI) recognized and Haryana State Kabaddi Association organized 68th Senior National Kabaddi Championship Women has started from 10th March.
Charkhi, Dadri, Haryana is the venue of 68th Women's Kabaddi Nationals where 29 teams are fighting for the prestigious title. Yesterday was the second day of Senior Nationals.
Maharashtra easily thrashed Telangana & Chandigarh. Indian Raiways had registred a huge win over Uttarakhand & Tamilnadu. Himachal Pradesh, Andhra Pradesh, Haryana also won their matches.
Himachal Pradesh, Indian Railways, Punjab, Haryana, Maharashtra, Andhra Pradesh, Karnataka, West Bengal, Bihar, Gujarat, Jharkhand, Goa, Tamilnadu & Delhi have made it to the knockout stage.
Day 2 Results:
1) Maharashtra 48 – 15 Telangana
2) Indian Railways 69 – 09 Uttarakhand
3) Karnataka 31 – 27 Manipur
4) Delhi 44 – 21 Madhya Pradesh
5) Telangana 24 – 67 Chandigarh
6) Rajasthan 43 – 10 Odisha
7) Andhra Pradesh 57 – 43 Kerala
8) Gujarat 47 – 26 Jammu & Kashmir
9) Bihar 40 – 17 Madhya Pradesh
10) West Bengal 25 – 23 Pondicherry
11) Tamilnadu 14 – 40 Indian Railways
12) Haryana 62 – 23 Karnataka
13) Jharkhand 26 – 40 Punjab
14) Bihar 48 – 18 Assam
15) Chandigarh 18 – 40 Maharashtra
16) Gujarat 35 – 18 Odisha
17) Goa 37 – 33 Andhra Pradesh
18) Rajasthan 38 – 05 Jammu & Kashmir
19) Haryana 55 – 21 Uttar Pradesh
20) Himachal Pradesh 35 – 25 Pondicherry
21) Chhattisgarh 54 – 14 Telangana
22) Delhi 43 – 22 Assam