Day 2 Schedule: Khelo India Youth Games 2019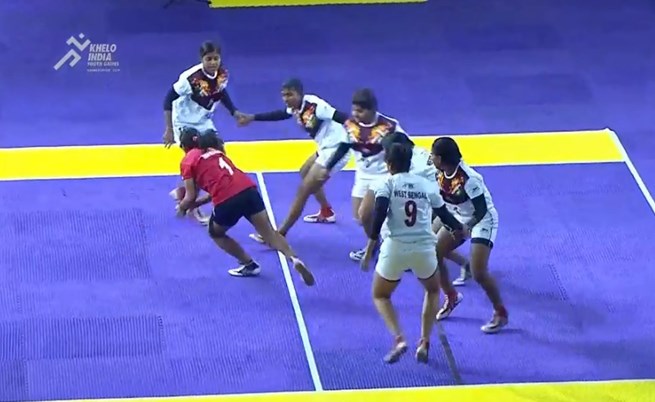 The Indian Central Government in associate with Maharashtra State Government has organized 2nd Khelo India games at Shree Shiv Chhatrapati Sports Complex, Pune.
This tournament will be held from 8th January 2019 to 20th January 2019. Yesterday (14th January) Kabaddi matches have been started there. In the U-17 Girls category, Chhattisgarh, Uttar Pradesh won their matches.
In the U-17 boy's category Haryana, Delhi, and Chhattisgarh beat their opponents to move forward in the tournament.
Maharashtra U-21 Girls won their match against West Bengal whereas their U-21 boys had hard luck as they lost the match. Haryana U-21 boys also went in the next round.
Khelo India Youth Games 2019 Kabaddi Schedule :
Tuesday: 15th January 2019
09:30 AM – Delhi vs Maharashtra (Group A Boys U-17)
09:30 AM – Haryana vs Madhya Pradesh (Group B Boys U-17)
09:30 AM – Uttar Pradesh vs Chandigarh (Group A Boys U-21)
10:15 AM – Chhattisgarh vs West Bengal (Group A Girls U-17)
10:15 AM – Haryana vs Punjab (Group A Girls U-17)
10:30 AM – Maharashtra vs Kerala (Group B Boys U-21)
01:30 PM – Rajasthan vs Uttar Pradesh (Group A Boys U-17)
02:10 PM – Haryana vs Maharashtra (Group A Girls U-17)
02:50 PM – Chhattisgarh vs Tamil Nadu (Group B Boys U-17)
03:30 PM – Uttar Pradesh vs Bihar (Group A Girls U-17)
04:00 PM – Rajasthan vs Telangana (Group B Girls U-17)
04:00 PM – Maharashtra vs Andhra Pradesh (Group B Girls U-21)
04:50 PM – Himachal Pradesh vs Tamilnadu (Group A Girls U-21)
04:50 PM – Uttar Pradesh vs West Bengal (Group B Girls U-21)
07:00 PM – Delhi vs Haryana (Group A Boys U-21)
08:00 PM – Tamilnadu vs Punjab (Group B Boys U-21)