Day 3 Results: Bangabandhu Cup 2022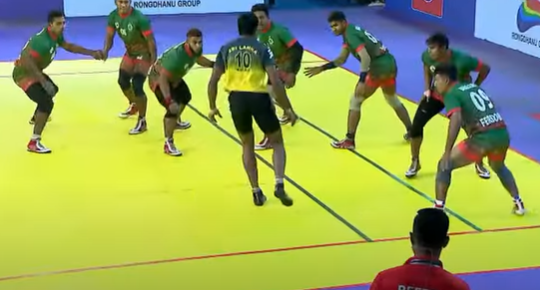 Bangabandhu Cup is an International Kabaddi Tournament organised by Bangladesh Kabaddi Federation in Bangladesh. The second season of this tournament has commenced from 16th March.
National Kabaddi Stadium & Shaheed Noor Hossain National Volleyball Stadium is the venue. Kabaddi matches have been started from 19th March after opening ceremony was held.
Along with host country & defending champion Bangladesh, countries such as Nepal, Kenya, Srilanka, England, Iraq, Indonesia & Malaysia are participating in this tournament.
On the third day (21st March) of the tournament saw a last minute thriller where Iraq defeated Nepal by one point. Their player Balbool Hasan starred in the win of Iraq.
Due to heroics of James Kamweti Kenya thrashed Indonesia 60-20 in one sided affair. Season 1 winner Bangladesh won against Srilanka 40-38. Aslam Raja of Srilanka was the man of the match.
Day 3 Results:
1) Iraq 33 – 32 Nepal
2) Kenya 60 – 20 Indonesia
3) Bangladesh 40 – 38 Srilanka