Jaipur Pink Panthers Retain Deepak Hooda as captain once again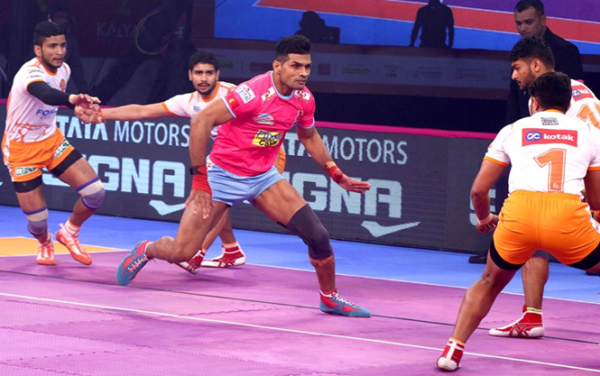 Pro Kabaddi League season eight will kick off on 22nd December. To avoid the risk of covid the league will have only one single venue of Bengaluru. Teams are practising heavily for this season.
Jaipur Pink Panthers is owned by star actor Abhishek Bachchan. The inaugural champion has announced all-rounder Deepak Niwas Hooda will lead the team in PKL 8.
Offensive all-rounder Deepak has scored 856 raid points in 123 matches with 31 super 10s. Deepak's raiding average is 6.95 raid points per matches.
Also he has 87 tackle points in 123 matches. Defensive average is 0.64 tackle points per match. He is not so active in the defense but steps up when needed.
In the last season Deepak led Jaipur Pink Panthers. But the team was eliminated from the league stage itself. This season his efforts will be pushing his team to the knockouts.
Performance of Deepak Niwas Hooda in PKL:
Season 1 – 87 Raid Points – 02 Tackle Points – 14 Matches Played
Season 2 – 60 Raid Points – 36 Tackle Points – 15 Matches Played
Season 3 – 69 Raid Points – 07 Tackle Points – 12 Matches Played
Season 4 – 126 Raid Points – 04 Tackle Points – 16 Matches Played
Season 5 – 172 Raid Points – 14 Tackle Points – 24 Matches Played
Season 6 – 196 Raid Points – 12 Tackle Points – 22 Matches Played
Season 7 – 146 Raid Points – 12 Tackle Points – 20 Matches Played