Defense moves in Kabaddi that can create panic among raiders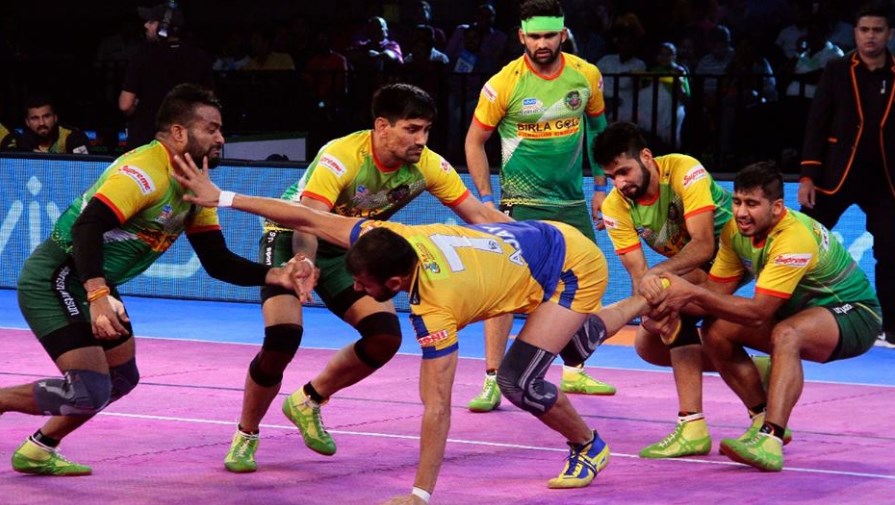 Kabaddi is said to be a raider's game as the raider can change the game at any stage. But along with offense, a strong defense is also equally important for a team to win matches.
Even if raiders fails in clinching the points, a strong defense can earn you points. Focus, coordination, teamwork, awareness, and timing are the key factors required in defense in the game of Kabaddi.
Here are the defense moves used in Kabaddi:
1) Ankle Hold
This move is generally used by corner defenders. When a raider attempts toe-touch or bonus point, corner defender grabs his ankle and pulls him inside his half. Then other defenders also join him and tackle him.
Ankle hold requires a tight grip of both hands. Ankle hold on perfect timing with immense strength and tight grip always becomes successful. Surender Nada of Haryana Steelers, Fazel Atrachali of U Mumba are ankle hold specialists. These days even raiders attempt ankle hold especially those who are placed in right-in position and left in position.
2) Diving Ankle Hold
Diving ankle hold is slightly different than ankle hold. In diving ankle hold, a defender goes to lock both legs of the raider in his hand. This enables to stop the entire movement of the raider. The diving ankle hold should be strong otherwise raider can escape as his upper body stays in the motion after the attempt of diving ankle hold on him. Sandeep Dhull from Jaipur Pink Panthers and D Cheralathan from U Mumba are the defenders who prominently execute diving ankle hold.
3) Thigh Hold
In thigh hold, the defender dives at the thigh of the raider from a distance and brings him down through his body weight, enabling fellow defenders to join in and tackle the raider. Usually, thigh hold move is used by corner and cover defender. Defender strikes at the right time when the raider is switching his direction and hold his thighs with both hands which needs a massive strength. Jaipur Pink Panthers' Mohit Chhillar uses this move in his play.
4) Waist/ Back Hold
Waist hold/ back hold requires enormous strength to be executed perfectly. In this, a defender grabs the raider by his waist or back depending on the raiders position and then catches him mid-air to disturb his balance. Care should be taken by the team in the execution of waist/ back hold as the lower body of the raider is hanging or else it can become multiple point raid for him. Here team co-ordination plays a vital role. Sandeep Dhull from Jaipur Pink Panthers and Amit Hooda from Tamil Thalaivas mostly execute this move.
5) Dash 
When a raider goes deep into the opposition half or tries to escape after getting the point defender runs across and pushes him out of bounds before he gets any part of his body beyond the half line to eliminate him. This move involves the defender using his body weight, speed and strength to create enough momentum to make sure he gets his raider.
It requires the perfect balance of strength, agility, and technique from a defender to execute the dash. A defender should take care by keeping some part of his body in-bounds to avoid getting eliminated himself and tackle the raider out of his bounds. Bengal Warriors' defender Surjeet Singh, Telugu Titans' defender Abozar Mohajermighani and U Mumba's Fazel Atrachali are perfect executors of a dash.
6) Block
In block, the defender gets in front of the raider and blocks his path of going to the half-line with his entire body. When the raider is deep on one side of the court complicating his chances against the corner defenders, cover defender executes a block. A perfect block needs tremendous strength, good positioning, immaculate timing, and a firm grip to push back the raider. Manjeet Chhillar is the best example of performing a dash.
7) Chain Tackle
When two or more defenders form a chain by locking hands with each other to block the raider and tackles him the chain tackle is performed. Chain of two or more defenders ends the chances of the raider to escape. Great anticipation about the raider as well as good coordination and communication between the defenders are must in order to execute the chain tackle.