Exclusive Interview Feat Naveen Kumar Goyat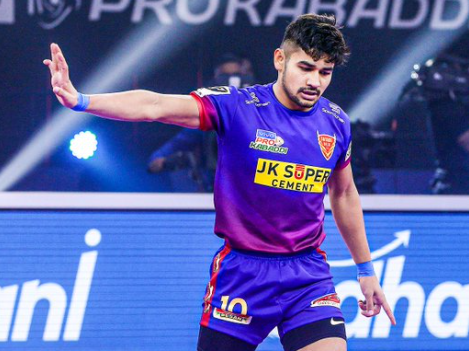 Dabang Delhi KC star raider Naveen Kumar Goyat is counted as one of the best raiders in PKL history. He played a huge role in Delhi's PKL title win in 2022.
Since his debut he's with Delhi Team & is getting contract extension. Naveen is the only NYP player who is retained consecutively.
Team Khel Kabaddi had an exclusive conversation with Naveen. He gave his insights on upcoming PKL auction, his career, National Championship, Asian Games & many more.
Q: First of all congratulations on getting retained by Dabang Delhi KC. The team management has shown faith in you once again. How you feel about your retention?
A: I'm very happy about it. Because I started my PKL journey with Delhi. The coaches, team management, players has been supportive. Because of their support I've reached here. That's why I'm very much happier about it.
Q: You are the only New Young Player drafted player who is retained consecutively. What was your family's reaction when they got to know about your contract extension with Delhi?
A: My family is very happy about it. We talk about the game, coach. So family is happy about me playing with same team, coach.
Q: Since your debut you've performed very well. Your performance has improved with each season. Delhi couldn't win the title in season 7 but you played huge role in making Delhi champion in season 8. What will be your strategy for the upcoming season?
A: The auction will happen. Players will be added to the team. Me, Vijay, Krishan, Ashu we were together in previous edition also. We're hoping that a good team will be made. So that we'll lift the trophy.
Q: In the previous season you had to miss some matches due to injury? What were your feelings that time?
A: The team had faith in me. I was doing well. But got injured. I was just hoping that I could recover soon and our team gets qualify for the knockout stage. Experienced players such as our skipper Joginder Singh Narwal, Manjeet Chhillar boosted our team's morale. Vijay, Ashu, Krishan did well. That's why our team got qualifier. When I came back after my recovery was done we won the semifinal & final too.
Q: What are you doing to maintain your fitness level high?
A: We've a coach at services team. We're practising in the evening. For PKL 9, after the auctions are done Delhi Team camp will be arranged. Fitness level will be maintained while in camp.
Q: Your performance at 69th Senior National Kabaddi Championship was good. But Services team suffered a loss in the hands of Haryana. How do you treat that loss?
A: Our team was good. It had good combination of young players & experience. Luck is also there. That day it was our hard luck. Win & loss are part of game. We will learn from our mistakes & try to do better next time.
Q: Vijay Malik is also retained by the team. What are your thoughts on this?
A: He's a very talented player. He has proved his mettle in the last season especially when I was not able to play due to injury. We will compliment & support each other in the game.
Q: Kabaddi fans are so habitual to the thing that you score super 10 in every match. If you took 8 or 9 points fans feel that you're not playing well. People have high expectations from you. Is it like burden on your shoulders?
A: Nothing like that. We always aim at doing well, winning the game. If we all are getting tackled, the score is even at last few minutes of the game, there's a do or die raid & I scored a point. For me it is happiness because our team has won the game. Team's win is more important than personal scores.
Q: If you're given the team captainship in the upcoming season, are you ready for it?
A: I can't say much about it. Whatever our coaches, team management decides it'll be in the team's interest.
Q: Pawan Kumar Sehrawat and Pardeep Narwal, two star PKL players will go under the hammer. What are your thoughts on this?
A: Both of them are amazing players. All the teams have changes to buy them or their previous might use FBM card for them. They are good players & will play well.
Q: If Asian Games are scheduled this year what will be your preparations as a star Indian player to bring back the Gold medal?
A: It is a huge thing when you play for your country. Our motive will be to bring back our Gold medal from them (Iran).
Q: Iran & South Korea are doing very well from past few years. They're giving tough competition. What are your thoughts on this?
A: Many players such as Fazel Atrachali, Mohammadreza Chiyaneh, Mohammad Maghsoudlou play PKL.
Q: Are there any defenders you feel challenging playing against them?
A: Ravindra Pahal, Mohammadreza Chiyaneh are some of them.
Q: You were selected by Delhi through NYP draft of PKL. Many players feel like they should be selected for PKL through NYP category. What is your message for those who are from NYP draft?
A: Practise well. Participate in various local tournaments. Raise your fitness level. I feel many young players will be part of PKL 9.