The first day of Sarpanch Trophy witnessed amusing matches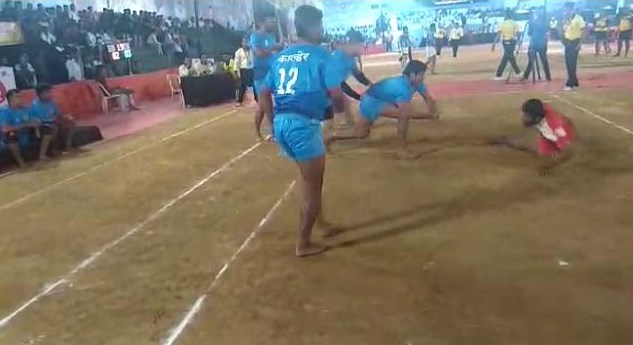 Thane District Kabaddi Association recognized Ramkrishna Mhatre Krida Mandal associated Shivsena Branch Kalher has organized Sarpanch Trophy Men's and Women's Kabaddi Tournament from 23rd to 26th January on Raje Chhatrapati Shivaji Maharaj ground, Kalher.
Yesterday (22nd January) in the men's section Morya Krida Mandal won 25-06 over Avinash Krida Mandal. Chaitanya Mali, Ajay Patil's raids and Sonu Thale, Karan Patil's tackles helped them to mark a huge points win. From the losing side raiders, Pankaj Mhatre and Pravin Dhanawde tried to avoid the defeat.
In the neck to neck battle between Mawli Mandal and Aakash Mandal, Mawli Mandal won the match 25-23. Talking about women's section Navi Mumbai Chintamani, Yuvarashtra Kalyan and Chhatrapati Dombiwli won their matches.
Day 1 Results:
Men's Section A Group
1) Morya Krida Mandal 25 VS 06 Avinash Krida Mandal
2) Mawli Mandal 25 VS 23 Aakash Mandal
Men's Section B Group
1) Aaidevi Wadunwaghar 21 VS 14 Baliram Kasheli
2) Avinash Gundawali 16 VS 15 Saish Kharbaw
Women's Section 
1) Chintamani Navi Mumbai 20 VS 11 Hotkaru Krida Mandal, Thane
2) Yuvarashtra Kalyan 23 VS 21 Kille Maruti Shahapur
3) Chhatrapati Dombiwli 25 VS 21 Dyanshakti Yuva Sanstha