Flying Pawan is ready to enter the PKL history books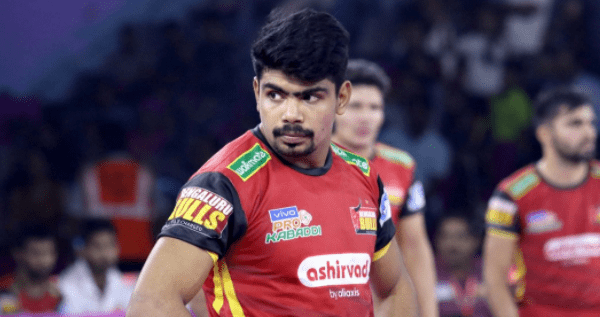 Pro Kaabddi's eighth edition will commence from 22nd December in Bengaluru. The league could not take place due to covid pandemic in last year. With all necessary precautions all the matches will be played at one venue only.  For PKL 8, players were auctioned on 29th, 30th and 31st August.
Pawan Kumar Sehrawat played a huge role in Bengaluru Bulls' winning campaign in season 6. His 22 points in the Season 6 final are the most by any player in a final. Super raids specialist Pawan holds the record for the most points in a single match at 39.
Known as 'Flying Pawan', he has clinched 682 raid points from 80 matches. He averages up to 8.52 raid points per match. Pawan has fourth most super 10s to his name i.e. 31 super 10s. He needs 18 raid points to complete 700 raid points in PKL.
His numbers show why he has been one of the most successful raiders of the league. Bengaluru Bulls retained him for PKL season 8. The team will be highly dependent on him in raiding department.