Full Squad of all the teams of Pro Kabaddi Season 6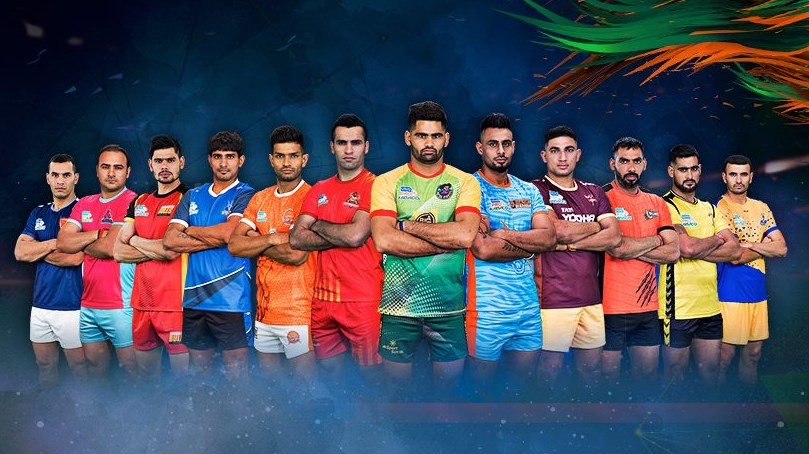 Pro Kabaddi League which was introduced in 2014 has played a vital role in making the sport popular. Kabaddi has reached all over the globe and has not just been limited to India.
Pro Kabaddi League season 6 is to kick-off from 7th October 2018. The league will be held in 13 different cities of the country. 12 teams will fight it out to be the champion of PKL Season 6. It will have 138 matches in 90 matches. All 12 teams have been training hard in the pre-season camp.
Here is the list of squads of all the 12 teams of PKL Season 6:
Bengal Warriors – 
Surjeet Singh, Ran Singh, Jang Kun Lee, Ziaur Rahman, Shrikant Tewthia, Mahesh Goud, Vijin Thangadurai, Bhupender Singh, Vittal Meti, Amit Kumar, Rakesh Narwal, Amit Nagar, Ashish Chhokar, Manoj Dhull, Maninder Singh, Ravindra Ramesh Kumawat, Amaresh Mondal, Mithin Kumar, Baldev Singh
Bengaluru Bulls – 
Rohit Kumar, Pawan Kumar, Mahender Singh, Kashiling Adake, Jasmer Gulia, Raju Lal Choudhary, Ashish Kumar, Dong Ju Hong, Gyung Tae Kim, Sandeep, Jawahar Vivek K, Mahesh Magdum, Mahendra Singh Dhaka, Nitesh BR, Anil, Anand V, Rohit, Harish Naik, Amit Sheoran, Sumit Singh
Dabang Delhi K.C. – 
Joginder Narwal, Chandran Ranjit, Vishal Mane, Viraj Landge, Pawan Kumar, Ravinder Pahal, Rajesh Narwal, Shabeer Bapu, Siddharth, Khomsan Thongkham, Anil Kumar, Kamal Kishor Jat, Yogesh Hooda, Satpal Narwal, Meraj Sheykh, Tushar Bhoir, Tapas Pal, Vishal, Naveen Kumar
Gujarat Fortunegiants – 
Sunil Kumar, K Prapanjan, Parvesh Bhainswal, Ruturaj Koravi, Ajay Kumar, Dong Geon Lee, Hadi Oshtorak, Shubham Palkar, Amit Sharma, Dharmender, Sachin, Mahendra Rajput, Lalit Chaudhary, Vikram Chandola, Anil, Yashwant Bishnoi, Amit, C Kalai Arasan, Sachin Vittala, Rohit Gulia
Haryana Steelers – 
Monu Goyat, Surender Nada, Vikash Khandola, Wazir Singh, Zakir Hossain, Prateek, Patrick Muvai, Kuldeep Singh, Mayur Shivtarkar, Neeraj Kumar, Vikas, Arun Kumar HN, Ananad Tomar, Bhuvneshwar Gaur, Amit Singh, Parveen, Sachin Shingade, Sunil, Vikas
Jaipur Pink Panthers – 
Anup Kumar, Deepak Niwas Hooda, Sandeep Dhull, Mohit Chhillar, K Selvamani, Bajirao Hodage, Young Chang Ko, David Mosambayi, Gangadhari Mallesh, Sunil Siddhgavali, Anand Patil, Shiva Ramakrishna, Brijendra Chaudhary, Lokesh Kaushik, Ajit Singh, Santhapanaselvam, N Shiva Ramakrishna, Nitin Rawal
Patna Pirates – 
Pardeep Narwal, Deepak Narwal, Vikas Kale, Kuldeep Singh, Manjeet, Tushar Patil, Surender Singh, Tae Deok Eom, Hyunil Park, Jae Min Lee, Vikas Jaglan, Vijay Kumar, Ravinder Kumar, Jaideep, Jawahar Dagar, Manish Kumar, Parveen Birwal, Arvind Kumar, Vijay
Puneri Paltan – 
Nitin Tomar, Vinod Kumar, Sanjay Shrestha, Parvesh, Akshay Jadhav, Bajrang, Takamitsu Kono, Sandeep Narwal, Rajesh Mondal, More GB, Girish Maruti Ernak, Vikash Khatri, Rinku Narwal, Monu, Amit Kumar, Ravi Kumar
Tamil Thalaivas – 
Ajay Thakur, Sukesh Hegde, Surjeet Singh, Darshan J, Manjeet Chhillar, Jasvir Singh, K Jayasselan, Atul MS, Sunil, Chan Sik Park, Anil Sharma, Abhinandan Chandel, D Gopu, Vimal Raj, Jae Min Lee, Amit Hooda, C. Arun, D Pradap, Rajnish, Anil Kumar, Anand
Telugu Titans – 
Rahul Chaudhari, Abozar Mohajermighani, Farhad Rahimi Milaghardan, Rakesh Singh Kumar, C Manoj Kumar, Sanket Chavan, Mahender Reddy, Nilesh Salunke, Mohsen Maghsoudloujafari, Vishal Bhardwaj, Rakshith, Sombir, Kamal Singh, Ankit Beniwal, Anand, Rajnish, Anuj Kumar, Armaan
U Mumba – 
Fazel Atrachali, Dharmarajan Cheralathan, Abhishek Singh, Siddharth Desai, Vinod Kumar, Abofazl Maghsodloumahali, R Sriram, Rohit Baliyan, Hadi Tajik, Adinath Gavali, E Subash, Surinder Singh, Shiv Om, Gaurav Kumar, Mohit Balyan, Anil, Arjun Deshwal, Darshan Kadian, Rajaguru Subramanian
UP Yoddha – 
Rishank Devadiga, Prashanth Kumar Rai, Jeeva Kumar, Shrikant Jadhav, Sachin Kumar, Seaong Ryeol Kim, Suleiman Kabir, Narender, Rohit Kumar Choudary, Amit, Bhanu Tomar, Pankaj, Nitesh Kumar, Azad Singh, Nitin Mavi, Vishav Chaudhary, Akram Shaikh, Sagar Krishna