Gajanan Kirtikar elected as a Acting Secretary of Maharashtra Kabaddi Association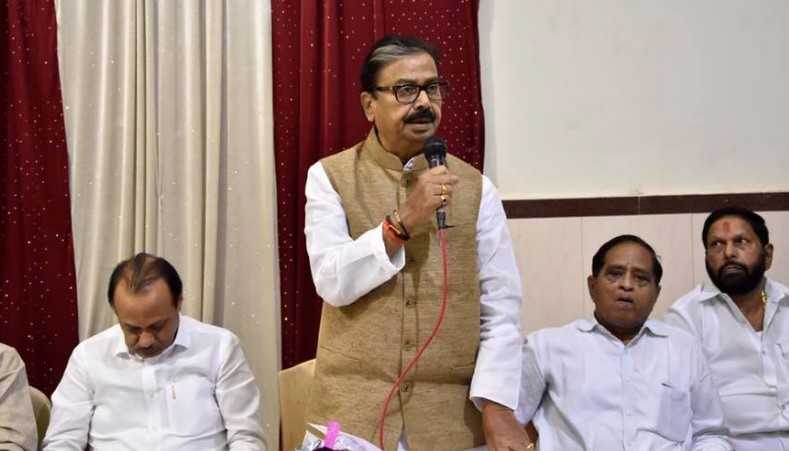 Gajanan Kirtikar and Mangal Pandey are elected as acting secretary and treasurer after the election held on yesterday 25th November 2018. Other posts were elected as unopposed.
Aurangabad Kabaddi Association president Dattabhau Parthikar (Aurangabad) and Mumbai Suburb Kabaddi Association president and MP. Gajanan Kirtikar (Mumbai Suburb) applied for the elections for the post of Acting Secretary. International coach Ramesh Bhendigiri (Kolhapur) and Parbhani Kabaddi Association associate Mangal Pandey (Parbhani) submitted their applications for the post of Treasurer.
74 members of 25 associate cities were qualified for voting. Out of those 74, 71 members cast their votes. Gajanan Kirtikar got 51 votes and Dattabhau Parthikar got 19 votes. 1 vote was declared invalid. Gajanan Kirtikar won by 33 votes. Mangal Pandey got 47 votes and Ramesh Bhendigiri got 24 votes. Mangal Pandey won the election for the post of treasurer by the 23 votes.
Maharashtra State Kabaddi Association Posts :
Unopposed Posts
President – 
1) Ajit Pawar (Pune)
Vice-Presidents – 
1) Devram Bhoir (Thane)
2) Amarsingh Pandit (Beed)
3) Shashikant Gade (Ahmednagar)
4) Dinkar Patil (Sangli)
Women Reservation Vice-president-
1) Shakuntala Khatawkar (Pune)
2) Netra Rajeshirke (Ratnagiri)
Chief Associate-
1) Aaswad Patil (Ratnagiri)
Associates Posts-
1) Madan Gaikawad (Solapur)
2) Mohan Gaikawad (Nashik)
3) Ravindra Desai (Ratnagiri)
4) Mahadev Sathe (Usmanabad)
Post reserved for Women-
1) Sayada Patel (Nanded)
2) Smita Patil (Parbhani)
आज महाराष्ट्र राज्य कबड्डी असोसिएशनच्या कार्याध्यक्षपदासाठी मुख्यालयात निवडणूक पार पडली. मी स्वत: ही निवडणूक लढवून ५१-१९ अशा मतांच्या फरकाने विजयी झालो.

मला या निवडणुकीत मतदान करणाऱ्या सर्व मतदार, मदत करणारे ज्ञात-अज्ञात सहकारी-हितचिंतकांचे मी कृतज्ञपणे आभार व्यक्त करतो. pic.twitter.com/sWjXulV7eJ

— Gajanan Kirtikar (@GajananKirtikar) November 25, 2018