Ghatkopar Kabaddi Premier League got Inaugurated in Ghatkopar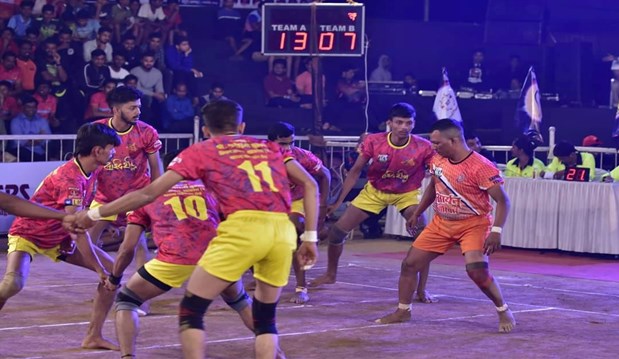 Mumbai Suburb District Kabaddi Association recognized and Ghatkopar Pratishthan organized second Ghatkopar Kabaddi Premier League got inaugurated yesterday at Bhatwadi. All the team owners, players, coaches, and managers took the blessings of God Ganesha. A rally of all participated team players, managers, coaches were arranged till the Tournament venue. Many Kabaddi fans in the Ghatkopar attended the ceremony.
120 out of 750 players from Mumbai's best clubs were divided into 10 teams of groups. Bala Nandgavkar, Ganesh Chukkal, Sagar Bandekar, Nilesh Jangam, Ravindra Ghag were present at the opening ceremony. The inaugural match was played between last season champions Bhatwadi Sai Darshan and Aaryan Warriors. It was won by  Bhatwadi Sai Darshan with the scoreline of 23-20.
Onkar Sakpal in raids and Manish Lad in offence were brilliant for Bhatwadi Sai Darshan. From the losing side, Aadesh Sawant and Siddesh Panchal performed well. In the second match, Delhi Yoddha won 28-25 over Raje Chandrarao Warriors courtesy of Manish Sane's all-round performance. Raje Chandrarao Warriors Suyog Rajapakar's efforts went into vain.