Gujarat Giants edge out Tamil Thalaivas in a nail biting match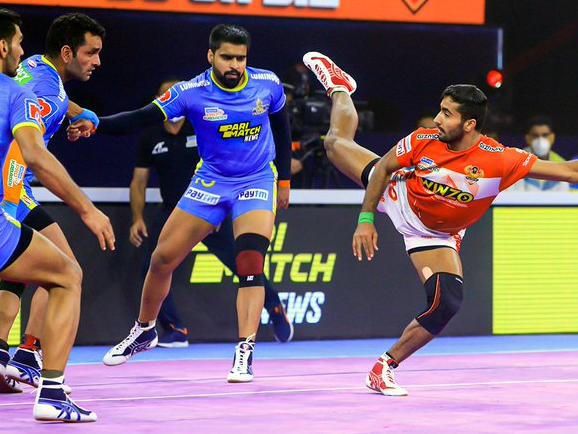 Tonight in Vivo Pro Kabaddi League eighth edition, Gujarat Giants with the brilliances of skipper Sunil Kumar & Mahendra Ganesh Rajput clinched a thrilling win against Tamil Thalaivas 37-35.
Gujarat and Tamil started the game scoring equally in the initial minutes. But Gujarat did it better by inflicting an all-out on Thalaivas. The halftime score was Gujarat 17 & Tamil 14.
Tamil Thalaivas marked its comeback & repaid the all-out on Gujarat Giants. The score was in 29-26 in favour of Tamil. Gujarat got Tamil all-out for another time.
In the last minute Gujarat skipper Sunil Kumar picked up a tackle point. Mahendra Rajput scored a raid point. The neck to battle came to an end as Gujarat won the match.
Gujarat raiding department consists of Mahendra Rajput (8 raid & 1 tackle points), Rakesh Narwal (6 raid points), Rakesh (5 raid points) & Pradeep Kumar (4 tackle points) was too good.
Mahendra Rajput completed '200 Raid Points' in his PKL career. Their skipper Sunil Kumar scored a high 5 with 5 tackle points. Ankit took 2 tackle points.
Thalaiva's raider Manjeet Dahiya picked up a super 10 with 12 raid points. Ajinkya Pawar clinched 8 raid & 2 tackle points. Bhavani Rajput got 2 raid points. Defender Sagar scored a high 5 with 6 tackle points.
Best Raider: Manjeet Dahiya – Tamil Thalaivas – 12 Raid Points
Best Defender: Sagar – Tamil Thalaivas – 6 Tackle Points