Here's the entire list of players playing in the PKL Season 8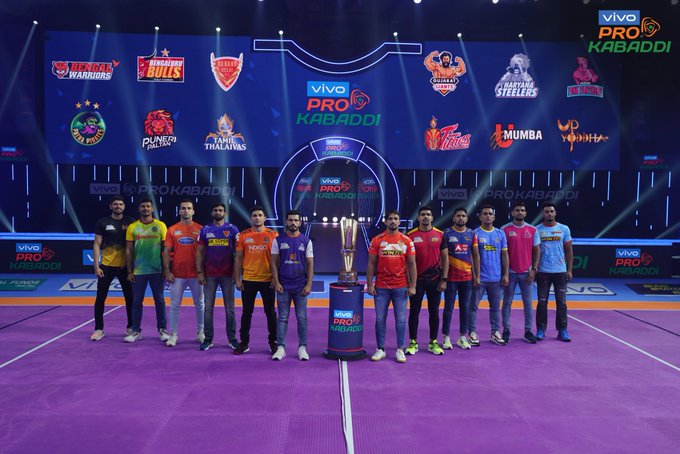 Vivo Pro Kabaddi League is back with a bang. India's second most favourite sports league will start tonight 7.30 pm at Sheraton Grand Bengaluru Whitefield Hotel & Convention Centre Bengaluru. Due to pandemic, the league will take place at single venue. All the teams are in bio bubble. Before the matches let us have a look at how teams will look in PKL 8.
Here is the full list of player's in PKL season 8:
1) Bengal Warriors
Coach – BC Ramesh
Team – Maninder Singh (Captain), Akash Pikalmunde, Anand V, Maninder Singh, Ravindra Kumawat, Rishank Devadiga, Sukesh Hegde, Darshan J, Vijin Thangadurai, Amit, Parveen, Sachin Vitthala, Abozar Mohajermighani, Rinku Narwal, Rohit Banne, Esmaeil Nabibakhsh, Manoj Gowda, Rohit, Tapas Pal.
2) Bengaluru Bulls
Coach – Randhir Singh Sehrawat
Team – Pawan Kumar Sehrawat (Captain), Mahender Singh (Vice-Captain), Abolfazl Maghsodloumahali, Chandran Ranjit, Deepak Narwal, Dong Geon Lee, More GB, Naseeb, Rohit Sangwan, Mayur Kadam, Mohit Sehrawat, Aman, Saurabh Nandal, Amit Sheoran, Ankit, Vikas.
3) Dabang Delhi K.C.
Coach – Krishan Kumar Hooda
Team – Joginder Singh Narwal (Captain), Ajay Thakur, Ashu Malik, Emad Sedaghatnia, Naveen Kumar, Neeraj Narwal, Sushant Sail, Jeeva Kumar, Mohit, Sumit, Mohammad Malak, Vikash Kumar, Balram, Manjeet Chhillar, Sandeep Narwal, Vijay Jaglan .
4) Gujarat Giants
Coach – Manpreet Singh
Team – Sunil Kumar (Captain), Mahendra Ganesh Rajput, Ajay Kumar, Bhuvneshwar Gaur, Harmanjit Singh, Harshit Yadav, Maninder Singh, Pardeep Kumar, Rakesh Narwal, Rakesh Sungroya, Rathan K, Sohit Malik, Sonu Singh, Sunil Kumar, Ravesh Bhainswal, Girish Ernak Ravinder Pahal, Ankit, Davinder Amar, Sumit, Vishay Chaudhary, Soleman Pahleivani.
5) Haryana Steelers
Coach – Rakesh Kumar
Team – Vikash Kandola (Captain), Akshay Kumar, Ashish, Mohammad Esmaeil, Vinay, Ravi Kumar, Chand Singh, Rajesh Gurjar, Surender Nada, Ajay, Hamid Nadar, Rajesh Narwal, Rohit Gulia, Shrikant Tewathia, Vikas Jaglan.
6) Jaipur Pink Panthers
Coach – Sanjeev Baliyan
Team – Deepak Niwas Hooda (Captain), Amin Nosrati, Amirhossein Maleki, Arjun Deshwal, Ashok, Naveen Sushil Gulia, Pawan TR, Amit Hooda, Elavarasan A, Sandeep Dhull, Shaul Kumar, Amit Kharb, Dharmaraj Cheralathan, Vishal Lather, Nitin Rawal, Sachin Narwal.
7) Patna Pirates
Coach – Ram Meher Singh
Team – Prashanth Kumar Rai (Captain), Selvamani K, Monu Goyat, Sachin, Monu, Guman Singh, Mohit, Rajeevsinh Chavan, Rohit, Sandeep, Neeraj Kumar, Shubham Shinde, Sunil, Sajin C, Sourav Gulia, Manish, Sahil Mann, Mohammadreza Chiyaneh, Daniel Odhiambo.
8) Puneri Paltan
Coach – Anup Kumar
Team – Nitin Tomar (Captain), Vishal Bhardwaj (Vice-Captain), Rahul Chaudhari, Pankaj Mohite, Pawan Kumar, Mohit Goyat, Vishwas S, Akash Shinde, Aslam Inamdar, Shubham Shelke, Baldev Singh, Jadhav Shahaji, Sanket Sawant, Hadi Tajik, Sombir, Sourav Kumar, Karamvir, Subhash E, Abinseh Nadarjan, Subhash E.
9) Tamil Thalaivas
Coach – J Udaya Kumar
Team – PO Surjeet Singh (Captain), Manjeet Dahiya, K Prapanjan, Athul MS, Bhavani Rajput, Ajinkya Pawar, Himanshu, Asiri Alawathghe, PO Surjeet Singh, Sagar Krishna, santhapanaselvam, Himanshu, Sahil, M. Abhishek, Sagar, Ashish, Mohit, Sahil, Sagar Krishna, Santhapanaselvam, Saurabh Patil.
10) Telugu Titans
Coach – Jagdeesh Kumble
Team – Rohit Kumar (Captain), Siddharth Desai (Vice-Captain), Rajnish, Ankit Beniwal, Rakesh Gowda, Galla Raju, Hyunsu Park, Amit Chauhan, C Arun, Surinder Singh, Ruturaj Koravi, Sandeep Kandola, Adarsh T, Manish, Akash Chaudhary, Akash Arsul, Prince D, Abe Tetsuro, Muhammad Shihas, Palla Ramakrishna.
11) U Mumba
Coach – Rajguru Subramanian
Team – Fazel Atrachali (Captain), Abhishek Singh (Vice-Captain), V Ajith Kumar, Navneet, Pratap S, Jashandeep Singh, Shivam Ali, Kamlesh, Sunil Siddhgavali, Ajeet, Harendra Kumar, Prince, Rinku HC, Prathap S.
12) UP Yoddha
Coach – Jasveer Singh
Team – Nitesh Kumar (Captain), Pardeep Narwal, Shrikant Jadhav, Gulveer Singh, Mohammad Taghi Paein Mahali, Surinder Gill, Sahil, Rohit Tomar, James Kamweti, Ankit, Aman, Nitesh Kumar, Sumit, Aashish Nagar, Ashu Singh, Gaurav Kumar, Shubham Kumar, Gurdeep and Nitin Panwar.