Here's What the Jaipur Squad looks like for the upcoming season of Pro Kabaddi League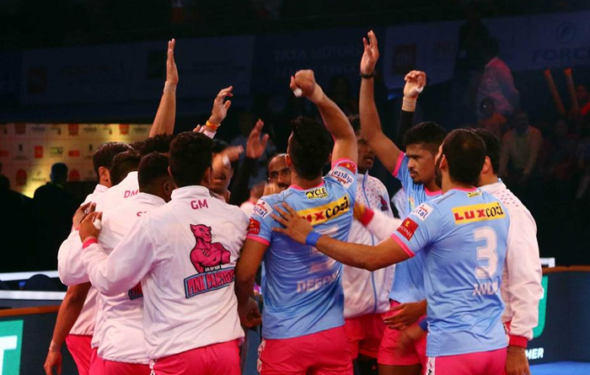 – Ambrish Upadhyay
The "Inaugural Champions" of Pro Kabaddi League JAIPUR PINK PANTHERS retained Amit Hooda, Vishal Lather under Elite Retained Player category, Nitin Rawal (Young Retained Player) Category while Sachin Narwal, Pavan TR, Sushil Gulia & Elavarasan A under Existing New Young Player Category.
Making a clever move at the auction Jaipur who released their captain Deepak Niwas Hooda before the PKL 8 auction, signed him back at just 55 lakhs exercising their FBM card. The Ace all-rounder stands third in the list of Top raid points scorer of the PKL. Deepak has scored 856 raid points & 87 tackle points so far in 123 PKL matches.
Jaipur spent the huge amount of 96 lakhs to sign the Category B raider Arjun Deshwal, which later became the third highest bid of the PKL 2021 auction.
Arjun has scored 110 raid points in his 22 PKL appearances, he possibly got this huge amount as Jaipur wanted someone to do the job which Deepak Narwal & Nilesh Salunke did for the team in previous season.
Jaipur roped in the emerging raider Naveen Bazzad (22 lakh) in the auction. Naveen has scored more than 150 raid points in 37 PKL matches.
The raiding department looks pretty strong as the unit consists of Deepak Hooda, Arjun Deshwal, Naveen, Nitin Rawal, Sushil Gulia, Sachin Narwal, Ashok Nagar & Amit Nagar.
The Iranian raiders Amir Hossein M. (10 lakh) & Md. Amin Nosrati (11 lakh) have also been included in the squad to strengthen their raiding department.
Talking about the defense, Jaipur have signed Anna Dharamaraj Cheralathan, (20 lakh) for whom the age is just a number. Undoubtedly, the most experienced defender of kabaddi will be playing for Jaipur in PKL 8.
The defence is looking well balanced on the cards, as the defense unit will be D. Cherlathan (259 tackle points), Amit Hooda (237 tackle points), Sandeep Dhull (207 tackle points, Nitin Rawal (45 tackle points) & Vishal Lather (65 tackle points).
Pavan TR, Elavarasan, Shaul Kumar & Amit Kharb will also be playing an important part to strengthen the defense unit.