Hosts Sangali through to the knockout stage in Men's section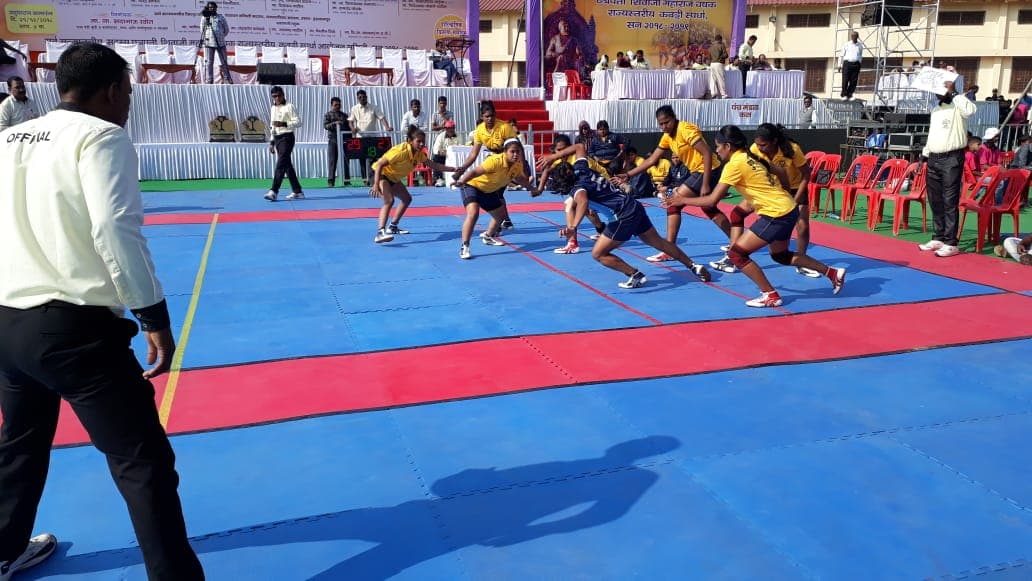 Directorate of Youth and Sports Services, Maharashtra State in association with District Sports Officer'sVidarbha State Kabaddi Association office and Sports Academy, Sangli and Pune District Kabaddi Association is hosting 'Chhatrapati Shivaji Maharaj Chashak' Kabaddi Tournament.
In Men's section Raigad, Sangali, Mumbai City, Kolhapur and Thane qualified for the knockout stage. Talking about Women's section, Pune, Mumbai Suburb, Ratnagiri and Palghar defeated their opponents and progressed to the playoffs of the tournament.
Raigad won over the Amravati 40-13 in Men's section and topped their group. Sangli defeated Kolhapur 14-11 to qualify for the knockout stage. In Women's section Pune managed to win over Thane 34-25. Mumbai Suburb thrashed Nagpur 30-04. In an interesting match Palghar defeated Kolhapur by 2 points. They won 34-32.
Day 1 Matches Results :
Men's Section :
1) Mumbai Suburb 53 – 17 Akola (Group D)
2) Raigad 39 – 19 Nandurbar (Group A)
3) Sangli 14 – 11 Kolhapur (Group B)
4) Ratnagiri 36 – 36 Pune (Group C)
5) Mumbai City 33 – 19 Mumbai Suburb (Group D)
6) Beed 37 – 27 Amravati  (Group A)
7) Thane 28 – 05 Bhandara (Group C)
8) Akola 35 – 27 Nashik (Group D)
9) Raigad 40 – Amravati 13 (Group A)
10) Sangli 46 – 18 Nagpur (Group B)
11) Kolhapur 56 – 22 Ahemadnagar (Group B)
Women's Section :
1) Pune City 34 – 25 Thane (Group A)
2) Mumbai Suburb 43 – 22 Nashik 22 (Group B)
3) Mumbai City 27 – 20 Ratnagiri (Group C)
4) Palghar 34 – 32 Kolhapur (Group D)
5) Satara 50 – 20 Amravati (Group A)
6) Raigad 35 – 15 Nagpur (Group B)
7) Ahemadnagar 43 – 18 Akola (Group C)
8) Sindhudurg 39 – 23 Buldhana (Group D)
9) Pune 26 – 06 Amravati (Group A)
10) Mumbai Suburb 30 – Nagpur 04 (Group B)
11) Ratnagiri 35 – 07 Akola (Group C)
12) Palghar 24 – 09 Buldhana (Group D)