How Bengal Warriors' all round team performance led them to title win in season 7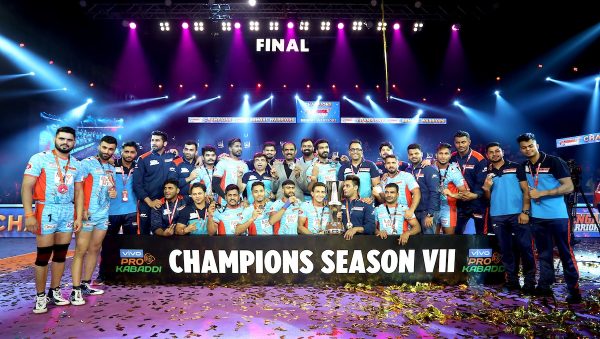 Saiprasad Kagne
Bengal Warriors, Defending champions had an amazing journey in PKL 7. Mohammad Esmaeil Nabibakhsh's performance and Maninder Singh's captaincy played a vital role in their season win. In this article, we will take a look at their last season performance with certain metrices through an analysis.
Analysis of Raiding & Other Metrics
Above chart is called as Tree map, which is a multi-dimensional graph displays hierarchical data in the form of combined rectangles. This Visualization conveys their performance throughout season 7 with respect to raiding and some common metrices. In last season, they scored 868 points in total in both raiding and defending unit while they conceded 790 points in total as well which shows huge difference between them. This difference proved to be a very important factor in their season win.
On the other hand, in raiding department they scored 513 points with 414 successful raids which again shows that their conversion rate from 1 point to multiple points is amazing. They had good quality raiders with the ability to convert 1 pointer raid to multiple pointer raid. This made a lot of difference for the team during last season. In terms of Avg points, Avg raid points and Do-or-Die raid points they scored 30.9, 21.3, 63 respectively.
Analysis of Defending & Other Metrics
Now, above chart displays us their performance in defense and some common metrices. They scored 229 tackle points with 217 successful tackles which conveys their conversion rate in defense is also good but not that much as compared to raiding unit. In terms of All out metrices, they inflicted 41 All-outs and conceded 23 All-outs throughout the tournament which is again an huge difference similar to raiding metrices.
However, When it comes to game changing metrices i.e. Super raids and Super tackles Bengal Warriors is at top position with 16 super raids and surprisingly they finished at 2nd last position with 14 super tackles which shows an positive sign that they tried their best to avoid stay of 2 or 3 players on the mat maximum times. Eventually, in terms of Avg. tackles points they scored only 9.54 points which is again an positive sign that they were brave enough to dominate an game through their raiding performances.