How have the Crorepatis fared this PKL Season?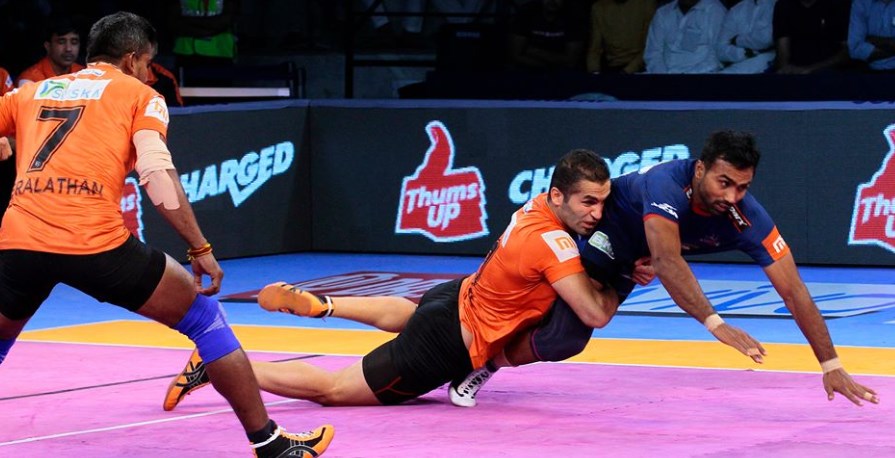 India's second most popular and successful league, Pro Kabaddi is underway with amusing and engaging matches. After the commencement of the sixth edition, all eyes were upon the performances of costliest players of the league. Monu Goyat, Rahul Chaudhary, Deepak Niwas Hooda, Nitin Tomar, Rishank Devadiga and Fazel Atrachali made an amount of Rs 1 Cr. or more in the auctions.
With half of the league over, we have a fair picture of performances of these costliest players. While Fazel and Nitin have shown their best form, Monu Goyat has failed to do so. Rahul Chaudhari, Rishank Devadiga and Deepak Niwas Hooda have given average performances.
1) Monu Goyat (Rs 1.51 Cr.), Haryana Steelers
Monu Goyat became the highest paid PKL player in its history. He was bought by Haryana Steelers for Rs.1.51 Cr. While playing for Patna Pirates last season, he scored 191 raid points in 26 matches. But in this season he has disappointed all Kabaddi fans with his performance. In 11 matches he has scored just 71 points with an average of 6.45 raid points per match. He has managed to score three Super 10's and one Super Raid so far in PKL 6.
2) Rahul Chaudhary (Rs 1.29 Cr.), Telugu Titans
Pro Kabaddi League's highest raid points scorer Rahul Chaudhary was retained by Telugu Titans through FBM for Rs. 1.29 Cr. Rahul played 22 matches and grabbed 184 raid points in PKL season 5 for Telugu Titans. Rahul has clinched 70 raid points with the help of 2 Super Raids from 9 matches. He holds the average of 7.78 raid points per match in PKL 6. Rahul is the second player to have most Super 10's in PKL history. But he has scored only 1 Super 10 till now.
3) Deepak Hooda (Rs 1.15 Cr.), Jaipur Pink Panthers
After playing three consecutive seasons for Puneri Paltan, Deepak Hooda moved to Jaipur Pink Panthers after they purchased him for 1.15 Cr. Deepak represented Puneri Paltan in 24 matches last season and successfully scored 172 raid points. 84 raid points are there to his name with 4 Super 10's and 1 Super Raid and average is 7.64 raid points per match. After a slow start to the campaign, Deepak has picked up the momentum in last 4-5 matches.
4) Nitin Tomar (Rs 1.15 Cr.), Puneri Paltan
Having played 22 matches for UP Yoddha, Nitin Tomar scored 167 raid points and was sold to Puneri Paltan for Rs. 1.15 Cr. Nitin Tomar was the costliest player in season 5 having a bid of 93 Lakh by UP Yoddha. This year too he is on the list of highest paid players of PKL. Both the times he has lived up to the price tag he has got. Nitin grabbed 100 raid points from 11 matches with an average of 9.09 raid points per match. He became the first player to cross 100 Raid Points mark in season 6. Nitin has scored 4 Super 10's and 1 Super Raid.
5) Rishank Devadiga (Rs 1.11 Cr.), UP Yoddha
In second consecutive season, Rishank Devadiga is playing for UP Yoddha. They retained him for Rs 1.11 Cr. through FBM. He got 165 raid points in 21 matches in the previous season. Rishank's performance graph has declined in this season due to his injury. He managed to score 70 raid points from 14 matches with 2 Super Raids and 1 Super 10. This season he is holding a poor average of 5 raid points per match.
6) Fazel Atrachali (Rs 1 Cr.), U Mumba
After the auctions of PKL season 6, Iran Kabaddi Team and U Mumba captain Fazel Atrachali became the first foreign player to sold for Rs. 1 Cr. He was bought back by his former team U Mumba. Fazel scored 57 tackle points in 24 matches played for Gujarat Fortunegiants. In this ongoing PKL season, Fazel tops the defender's list with 57 tackle points from 14 matches. He has 5 High 5's and 3 Super tackles to his name. Fazel has average 4.07 tackle points per match.