Indian Team Captain Ajay Thakur conferred with Padma Shri Award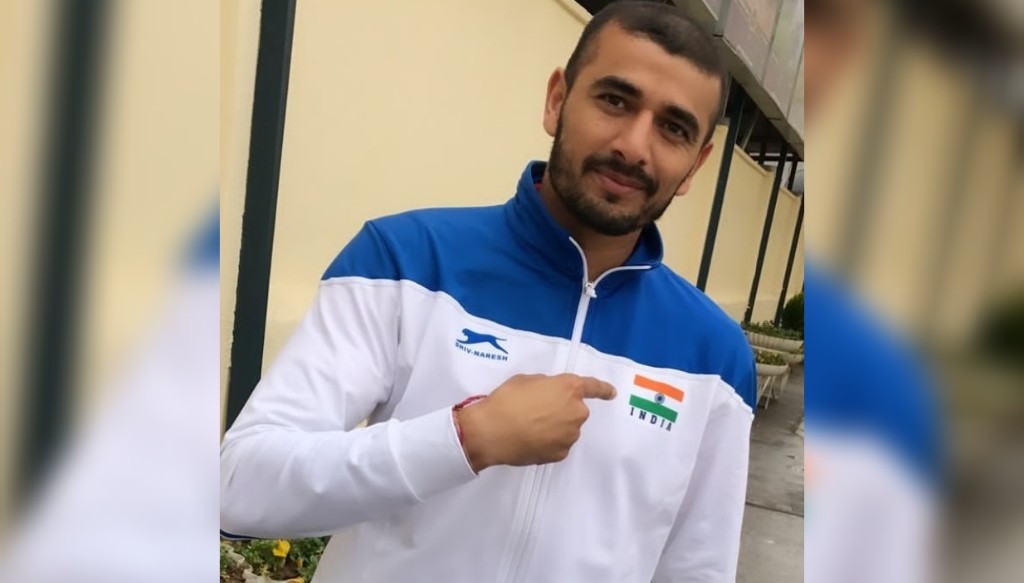 On the eve of the Republic Day on Friday (25th January) the government of India announced names of the Padma awardees 2019.
Indian Kabaddi Team Captain Ajay Thakur is felicitated with the prestigious and fourth highest civilian Padma Shri award. He is the first male Kabaddi player to get Padma Shri award. Before Ajay Thakur Women's Kabaddi player Sunil Dabas has got this award in 2014.
This is his biggest achievement for his contribution to Indian Kabaddi. Before this many Men's Kabaddi players have been awarded Arjuna Award. But Ajay Thakur is the first Men's Kabaddi player who will receive Padma Shri award.
Born on 1st May 1986, Ajay Thakur hails from a small village named Dabhota, of Nalagarh tehsil, Solan district of Himachal Pradesh. His mother Rajinder Kaur was a teacher and father Chhotu Ram was a national level wrestler.
One of Ajay's cousin, Rakesh Kumar Chandel, who had represented the Indian Kabaddi team at International level inspired Ajay to play Kabaddi. He started playing Kabaddi in his village.
Started his professional Kabaddi career in 2007 Ajay marked his debut in Indian team at a very young age of 19 years. He won his first international medal at the 2007 Asian Indoor Games.
After that this 'Escape Artist' was the part of the Indian team which received the Gold medal at Asian Indoor and Martial Arts Games 2013. In 2014 'Frog Jump Inventor' Ajay clinched Gold medal with Indian Team. He also got 'Himachali of the Year' award from Himachal Pradesh.
2016 Kabaddi World Cup was a truly career changing for 'Running Hand Touch Specialist' Ajay. Because of his stupendous performance in the final match, India lifted the World Cup even after trailing by 8 points. He scored 68 raid points and was 'Raider of the Tournament'.
In 2017 Ajay Thakur was appointed as a captain of Indian team. He led the Indian team to the Gold at the 2017 Asian Kabaddi Championship and the 2018 Kabaddi Masters Tournament. On both of these occasions, his individual performance was fabulous.
When all the things were running smoothly a nightmare of Asian Games 2018 happened. For the first time in the history of Asian Games, India lost the Gold medal under the captaincy of Ajay Thakur. But it was clear that Kabaddi is on a Growing spree like never before.
Ajay is an attacking player. He tries to draw out his team when fallen into critical situations. Due to his height (1.85 m), he has one of the longest reaches (to midline) in a current lot of players.
Ajay represents Himachal Pradesh in the senior Kabaddi nationals. Yesterday (25th January) Ajay felicitated with Parshuram Award by his state Himachal Pradesh. When he was employed with Air India he used to play for them in Industrial Kabaddi Championship. He has served with the Indian Navy too.
Ajay has 14 years of professional experience in Kabaddi. In Pro Kabaddi League, he has represented teams like Bengaluru Bulls (Season 1 & 2), Puneri Paltan (Season 3 & 4). He was roped as a captain of Tamil Thalaivas (Season 5 & 6).
In 2017 Ajay was recruited as a Deputy Superintendent of Police with Himachal Pradesh. It was his reward by his home state Himachal Pradesh for Asian Games 2014 gold medal. He currently works as a DSP in Madhuban, Haryana.
Ahead of Kabaddi World Cup 2019 this must be the encouraging and exciting news for the Indian captain and all the Kabaddi fans too. With this Padma Shri award we can say now Ajay Thakur has officially entered in the list of Greatest Kabaddi players of the world.