Iran creates history by defeating India to win Gold for 1st time at Asiad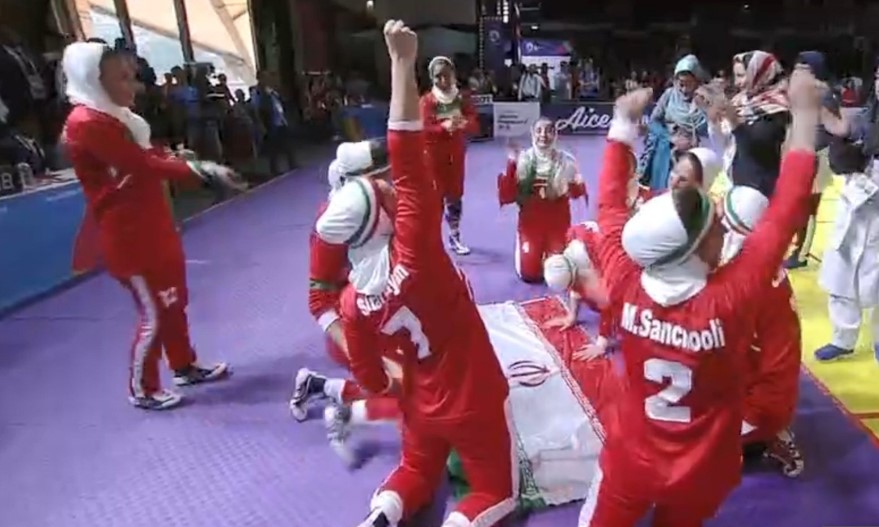 After a shocking defeat of Indian men's Kabaddi team, women's team too failed to clinch the Gold for the Country. Iran team beat Indian team as 27-24 and won their first ever Gold in Kabaddi.
Indian team was leading in the first half as 13-11. Captain Payal Chowdhary, Randeep Kaur Khehra, and Ritu Negi were outstanding in the first half. It was an intense game between these two teams.
In the second half, Iranian women's team started taking lead over the Indians. At 23rd minute of the game, the Iranian team managed to inflict all-out on the Indian team. When Iran was leading the game 21-24 all-rounder Sakshi Kumari went for super raid and got scoreboard equal 24-24. But Iranian raider Gazal scored a bonus point in the do-or-die raid and Sakshi Kumari caught by Iranian defense. And India lost the match!
It was a stellar all-round performance from the Iranian team but poor umpiring did cost the Indian team a couple of points which could have proved important in the end.
It is for the first time in the history of Asian Games Indian teams have not won the Gold. Yesterday men's team lost to Iran and got Bronze. Today women's team too got defeated by Iran and now they will have to satisfy with the Silver. Both teams will return without Gold which was unexpected. This will definitely hurt Indians the most!