Jagar, Siddhiprabha, Durgamata start their campaigns with a victory at State Junior Kabaddi Championship
Maharashtra State Kabaddi Association and Mumbai City Kabaddi Association approved Swapna Safalya Kabaddi Tournament is underway at the Late Kiran Shelar Stadium, Prabhadevi.
In the opening game of the tournament Durgamata Sports defeated Sahyadri Mitra Mandal 43-32. In the first half itself Durgamata's Kiran Kadam gave a solid start with a 25-12 lead. In the second half, momentum shifted in the favour of Sahyadri Mitra Mandal where Bharat Kalgutkar gave a single hand chase. But, in the end Durgamata won the match with a convincing 11 points.
In the next game between Mumbai's Vikas Mandal and Suburb's Parle Sports, Vikas Mandal defeated Parle Sports 32-24. In the first half it was a close contest with a 15-14 lead in Vikas Mandal's favour. It was in the second half that Vikas Mandal took a lead of 8 points and won their game. Avdhoot Shinde, Harshad Shinde were the architects of Vikas Mandal's victory.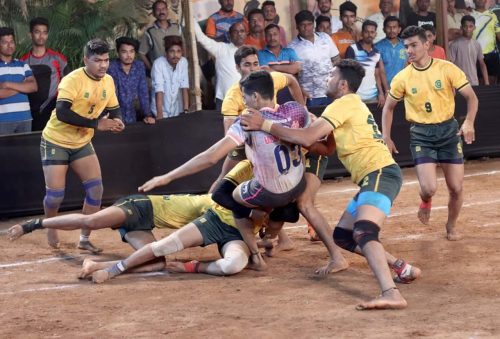 Mumbai's Siddhprabha Foundation and Thane's Griffin Gymkhana contest was a close tie as well. Siddhiprabha Foundation defeated Griffin Gymkhana 34-30 in a well placed contest.
In the last game of the day Suburb's Jagar Sports defeated Vijay Club 34-29. It came as a shock when a team trailing 2 points behind in the first half, it was in the second half that weaved the magic as they covered the lead and finally won the game 34-29. Abhishek Tamhankar, Sagar Singh, were the pillars behind Jagar's victory.