Jaipur back on winning track as they managed to overcome Pune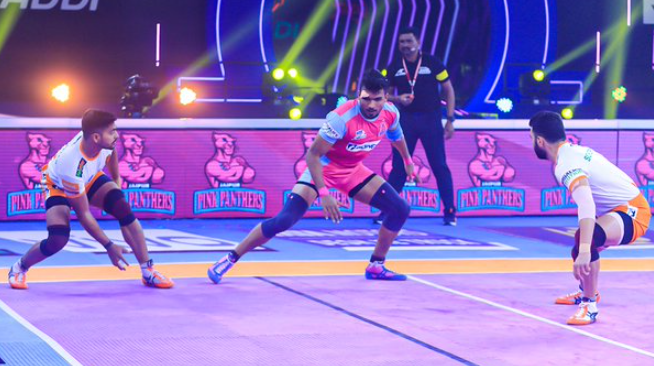 After three consecutive defeats season one champions Jaipur Pink Panthers managed to win the match against Puneri Paltan 31-26. This is the third win for Jaipur Pink Panthers in PKL 8.
Within 10 minutes Jaipur Pink Panthers inflicted an all-out on Puneri Paltan and took the lead 14-6. Arjun Dehswal was on raiding duty for Jaipur Pink Panthers.
But Puneri Paltan did not give too soon and made a way in the game. Their raiding and defense was gaining them points. The half time score was 18-17 in favour of Jaipur.
The second half story was slightly different where both the teams had a neck to neck battle. Jaipur got Puneri all-out and this is where they consolidated lead and won the match.
Jaipur raider Arjun Deshwal scored his 7th consecutive super 10 in PKL 8. He got 11 raid points. Shaul Kumar and Sandeep Dhull picked up 4 tackle points each.
Puneri Paltan raiding trio of Nitin Tomar (substituted in second half) Aslam Inamdar, and Pankaj Mohite played well. Skipper Vishal Bhardwaj and Sanket Sawant got 2 tackle points each.
Best Raider: Arjun Deshwal – Jaipur Pink Panthers – 11 Raid Points
Best Defender: Sandeep Dhull – Jaipur Pink Panthers – 4 Tackle Points