Jaipur Pink Panthers Team Analysis for PKL 8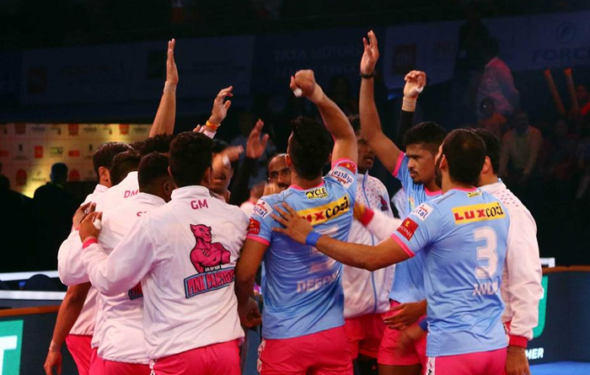 Jaipur Pink Panthers represents the Pink City of Jaipur. Bollywood actor Abhishek Bachchan owns this team. Amit Hooda, Vishal Lather, Nitin Rawal, Sachin Narwal, Pawan TR, Sushil Gulia, Elavarasn A were retained by the team management. For season 8 Sanjeev Baliyan will be the coach. Pink Panthers captained by Deepak Niwas Hooda will play versus Gujarat Giants on 23rd December.
A total of 17 players are in Jaipur Pink Panthers team.
Jaipur Pink Panthers Squad in PKL 8:
Amin Nosrati, Amirhossein Maleki, Arjun Deshwal, Ashok, Naveen Sushil Gulia, Pawan TR, Amit Hooda, Elavarasan A, Sandeep Dhull, Shaul Kumar, Amit Kharb, Dharmaraj Cheralathan, Vishal Lather, Deepak Niwas Hooda, Nitin Rawal, Sachin Narwal
Complete Analysis:
Raiders
6 raiders are part of team's raiding department. PKL 8 third highest paid player Arjun Deshwal is in the team. He was able to grab 104 raid points for U Mumba in PKL 7. Amin Nosrati, Amirhossein Maleki, Ashok, Naveen and Sushil Gulia can also be the good options for raiding.
Defenders
8 defenders will be seen defending the team. Amit Hooda on right corner and Sandeep Dhull on left corner is one of the most destructive corner combinations. Aged and experienced player in PKL 8, Dharmaraj Cheralathan is expected to play as a right cover position. Elavarasan might play as a left cover. Pawan TR, Shaul Kumar, Amit Kharb, Vishal Lather are also in the team.
All-Rounders
3 all-rounders will play for the team. Skipper Deepak Niwas Hooda will concentrate on his raiding. As a prime raider he notched up 146 raid points in PKL 7. Nitin Rawal is also an offensive all-rounder. Apart from these two young Sachin Narwal is in the team.
Overall team looks quite good and balanced one. But it is slightly over dependent on Deepak Hooda in raiding. Left cover defender is not prominent. Defense combination is good yet not perfect.
Possible Starting 7 for Jaipur Pink Panthesr in initial matches of PKL Season 8:
Right Corner – Amit Hooda
Right In – Arjun Deshwal
Right Cover – Dharmaraj Cheralathan
Center – Deepak Niwas Hooda
Left Cover – Elavarasan A
Left In – Nitin Rawal
Left Corner – Sandeep Dhull