Kabaddi players and their love for the Tattoos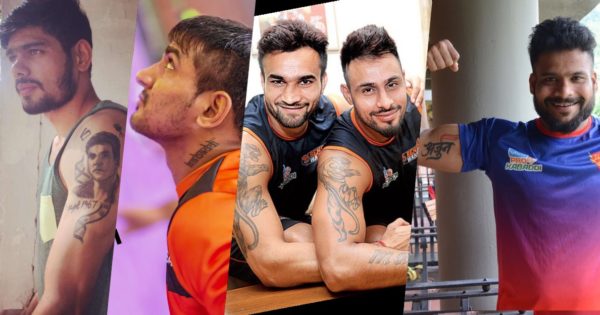 Pro Kabaddi started and the fortunes of many players changed overnight. Fans are now recognizing players who were not much known before. Fans began to crowd around where the players would go.
In short, the players have now become celebrities. Never before have kabaddi players paid so much attention to their hairstyles, their clothes. Now the picture is different. Some athletes even get tattoos on their bodies along with their clothes and hairstyles. In this article, we take a look at some of these players and their tattoos.
Vishal Mane – 
Vishal Mane is one of the selected players who has played all seven seasons of Pro Kabaddi. Just by his presence on the mat, Vishal gives jitters to the opposition team. Vishal has five tattoos on his body. He has got the names of his daughter Prisha and son Arjun as well as a tattoo of 'Aai' a Marathi word for mother, especially for his mother. He has a tattoo on his right forearm. The tattoo on Vishal's left arm is special. This single tattoo bears the initials of all the members of his household including his mother, father, elder brother, Vishal himself, his wife, daughter, and son.In ProKabaddi, Vishal has won from U Mumba and Patna Pirates. He is currently playing for Dabang Delhi.
Maninder Singh – 
Pro Kabaddi's last season's winning team Bengal Warriors captain Maninder Singh is also very famous for his style. His hairstyle captivates many young people. Maninder is named among the selected stylish players in Pro Kabaddi. Maninder has four or five tattoos on his body. He has a leopard tattoo on his right shoulder and his own name on his forearm. He has his wife Simran's initials tattooed on his neck. He also has tattoos on his legs. He recently redid the tattoo on his right shoulder.
Maninder also won the first season of Pro Kabaddi from Jaipur Pink Panthers.
Ran Singh  –
Ran Singh is named as the style icon of Kabaddi by many players. He used to play circle kabaddi before playing kabaddi on the mat. While playing circle kabaddi, he got the opportunity to go to Canada in 2010. This time he got his first tattoo. At that moment, he got a leopard tattoo on his right shoulder. Ran Singh and Maninder are good friends. Maninder had also got a similar tattoo after seeing the tattoo done by Ran Singh. Even Abhishek Bachchan appreciated his tattoos while he was playing for Jaipur Pink Panthers.
Ran Singh had won the first season of Pro Kabaddi from Jaipur.
Surender Nada – 
Surender Nada is famous for ankle holds of rival players on the kabaddi mat and getting them in trouble. Surender, who works for CISF, has done something that his teammates did not even think of. Surender has two tattoos of 'Kabaddi' written on his body. One is on his right hand and the other is on his left side of his neck.Surender won the World Cup for India in 2016. In Pro Kabaddi, he had won the title from U Mumba. He currently plays for the Patna Pirates.
Rohit Rana – 
Famous for his beard, Rohit Rana is also fond of tattoos. He has a lion tattoo on his right shoulder and his wife Deepika Rajput's face on his right hand. While on the mat, both of Rohit's tattoos are covered by jerseys. So many fans are not aware of his tattoos.
Rohit had won the first season of Pro Kabaddi from Jaipur Pink Panthers.
Rohit Kumar – 
Rohit Kumar and his love for Akshay Kumar is no more new for Kabaddi fans. Rohit has expressed his love for Akshay Kumar from time to time. Finally, once in 2017, he got a chance to meet his favorite actor. Rohit loves Akshay so much that he has tattooed Akshay Kumar's face on his arm.
Rohit had caught everyone's attention by scoring 32 points in a single match during his debut season. Since then, he has scored more than 100 points in each season. He has also won the Pro Kabaddi title from the Bangalore Bulls.