Khelo India 2019 witnessed a never seen before epic thriller in the Kabaddi final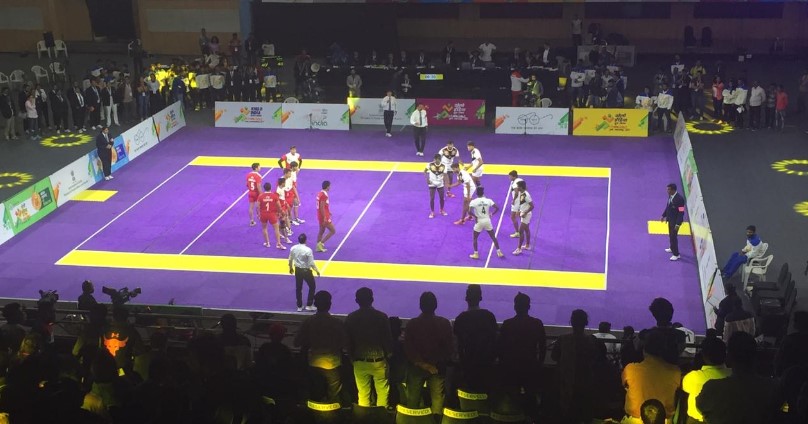 The Indian Central Government in associate with Maharashtra State Government has organized 2nd Khelo India games at Shree Shiv Chhatrapati Sports Complex, Pune. Kabaddi event wrapped up yesterday (18th January) with Haryana (Girls U-17 and Boys U-17), Himachal Pradesh (Girls U-21) and Chandigarh (Boys U-21) winning gold medals.
Yesterday (18th January) all Kabaddi fans witnessed a thrilling and breathtaking encounter in the game of Kabaddi. The last final match was played between Chandigarh and Tamilnadu boys of U-21 category. Till the end of the first half, the scoreboard was equal to 17-17. After the 40 minutes, the match was a tie with 36-36.
As Khelo India Kabaddi matches were played with Pro Kabaddi rules instead of giving 5 extra raids each the match was decided to play in extra time with 2 halves of 3 minutes each. In the extra time, Tamilnadu team won the match 40-39. But due to Tamilnadu team coaches and team management officials started celebrations before the umpire's whistles the one technical point was given to Chandigarh. At the extra time also match was draw 40-40.
After this, the match went into a 'golden raid' here the toss was won by Chandigarh and they got a chance to go for the raid. Chandigarh's raider scored one touch point which brought them gold. The final score was 41-40 in favor of Chandigarh.
What is Golden Raid?
Golden Raid is the raid in which the team which wins the new toss gets a chance to go for the raid. This condition arises when the knockout game ends up in a tie even after extra time.
Khelo India Under 21 Boys Final Match
Golden Raid #Kabaddi #KheloIndia pic.twitter.com/L6T5yPpA0h

— Anil Bhoir (@anilbhoir96) January 18, 2019
Final Results of Kabaddi Event at Khelo India Youth Games 2019:
1) Girls U-17, Final: Haryana 40 VS 29 Chhattisgarh
Gold – Haryana
Silver – Chhattisgarh
Bronze – West Bengal and Uttar Pradesh
2) Girls U-21, Final: Himachal Pradesh 30 VS 27 Haryana
Gold – Himachal Pradesh
Silver – Haryana
Bronze – Uttar Pradesh and Maharashtra
3) Boys U-17, Final: Haryana 40 VS 29 Rajasthan
Gold – Haryana
Silver – Rajasthan
Bronze – Chattisgarh and Delhi
4) Boys U-21, Final: Chandigarh 41 VS 40 Tamilnadu (Extra time)
Gold – Chandigarh
Silver – Tamilnadu
Bronze – Uttar Pradesh and Kerala