Lead the game in first half, Gujarat settle for another tie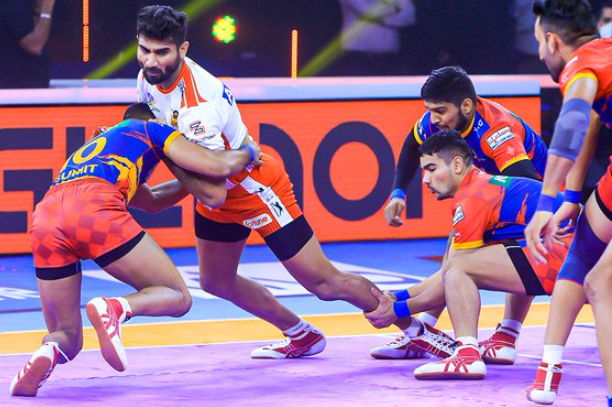 Vivo Pro Kabaddi League season 8 is underway in Bengaluru. On the first day of week 2, Gujarat Giants playout draw with UP Yoddha 32-32. This was second consecutive tie game for Gujarat.
Star raider Pardeep Narwal started off the game for UP Yoddha with 2 points raid. On the other hand, Gujarat Giant's raider Rakesh Narwal put super raid.
Rakesj Narwal in raiding and Girish Ernak in defense were the reason Gujarat inflicted first all-out on UP. At the end of the first half Gujarat was in lead 20-14.
UP raiders Pardeep and Surender Gill marked team's comeback in the game. Sumit in defense also did amazing tackles. First UP redcued the lead and levelled the score.
Rakesh Narwal scored one point in Gujarat's last raid. On the other hand, Pardeep played safely in UP's last raid as the score was equal. It was another tie for Gujarat after leading the game.
UP raider Pardeep Narwal picked up 11 raid points. Defender Sumit got 3 tackle points. Gujarat raider Rakesh also scored 10 raid points. Defender Girish Ernak took 4 tackle points.
Best Raider: Rakesh Narwal – Gujarat Giants – 13 Raid Points
Best Defender: Girish Ernak – Gujarat Giants – 4 Tackle Points