Maharashtra started their Nationals campaign with a huge win over Vidharbha
Amateur Kabaddi Federation of India (AKFI) recognized and Maharashtra State Kabaddi Association organized 66th Men's Senior National Kabaddi Championship has started from yesterday 28th January to 31st January 2019.
D. G. Tatkare Krida Nagri, Mhada Society Ground, Roha tehsil, Raigad district, Maharashtra is the venue of 66th Kabaddi nationals. 434 players are featuring in the tournament. 31 teams are fighting for the title.
Yesterday (28th January) the tournament was inaugurated by Hon. Sunil Tatkare. On this occasion Aniket Tatkare, Jayant Patil, Aaswad Patil, Gajanan Kirtikar, Vishwas More were present.
On the first day defending champions and hosts Maharashtra easily thrashed Vidharbha as 64-13. They led the first half 40-03. Tushar Patil, Ajinkya Pawar in offence and  Aamir Dhumal, Vikas Kale, skipper Girish Ernak were contributed in the win.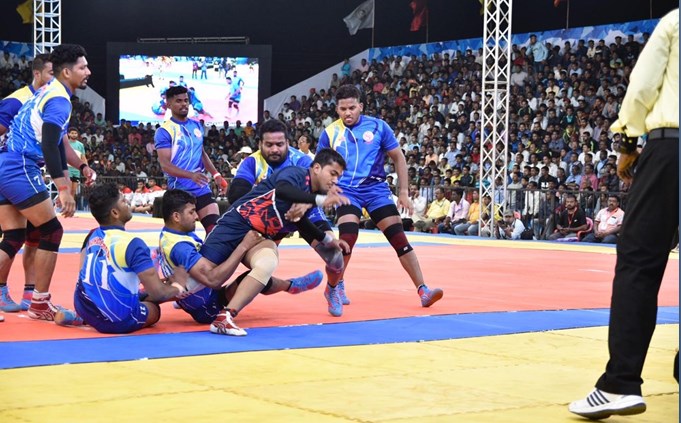 In the next match Services crushed Manipur 67-05. Haryana defeated Chhattisgarh 67-24. Karnataka won 57-45 over BSNL. Uttar Pradesh, Indian Railway also won their matches.
Day 1 Results :
1) Maharashtra 64 VS 13 Vidharbha (Pool A)
2) Services 69 VS 05 Manipur (Pool B)
3) Karnataka 57 VS 45 BSNL (Pool C)
4) Haryana 67 VS 24 Chhattisgarh (Pool D)
5) Rajasthan 52 VS 35 Punjab (Pool E)
6) Uttarakhand 70 VS 32 Assam (Pool F)
7) Indian Railway 49 VS 16 Orissa (Pool G)
8) Uttar Pradesh 66 VS 16 Jharkhand (Pool H)
9) Delhi 42 VS 42 Chandigarh (Pool B)
10) Madhya Pradesh 42 VS 43 Telangana (Pool C)
11) Bihar 41 VS 21 West Bengal State Unit (Pool D)
12) Andhra Pradesh 43 VS 31 Jammu And Kashmir (Pool E)